The first step to setting up your TrekkSoft account is creating your activities. This is the foundation of your business because, without it, there would be nothing to sell.
You will notice the activity is divided into 3 parts - Activity Info, Schedule, and Pricing. For this part, we focus only on Activity Info.
At the end of this guide, you will know how to set up an activity and add information.
Basic Activity Information
First things first. Let's register your activity. This information reflects what you want to sell.
Go to the navigation bar on the left-hand side and click on the Products drop-down menu and then Activities just below. Now you are on the Activity Overview page.

Now hit Add activity (blue button) on the right-hand side (see image above). You will now be able to add information in the appearing Activity info section.
Here you can give the activity a Title, Description, and Location (default to the nearest big city)
For now, click save.
Advanced Activity Information
This information refers to how you will sell your actives.
The options included are:
1. Using the TrekkSoft Website Builder. For each activity created, the website builder automatically creates a new website page for it.
2. "Book Now" buttons on an existing website. Here you have two options:
The first option is the most popular as it involves fewer clicks for your potential customers. On the activity listing, the "Book Now" button is visible. When this button is clicked it will first show the availability calendar for the selected activity.
The second option shows activity details first, before proceeding to the availability calendar and finally "Book Now".
3. Through online travel agents (OTAs)
How can I tailor my activities further?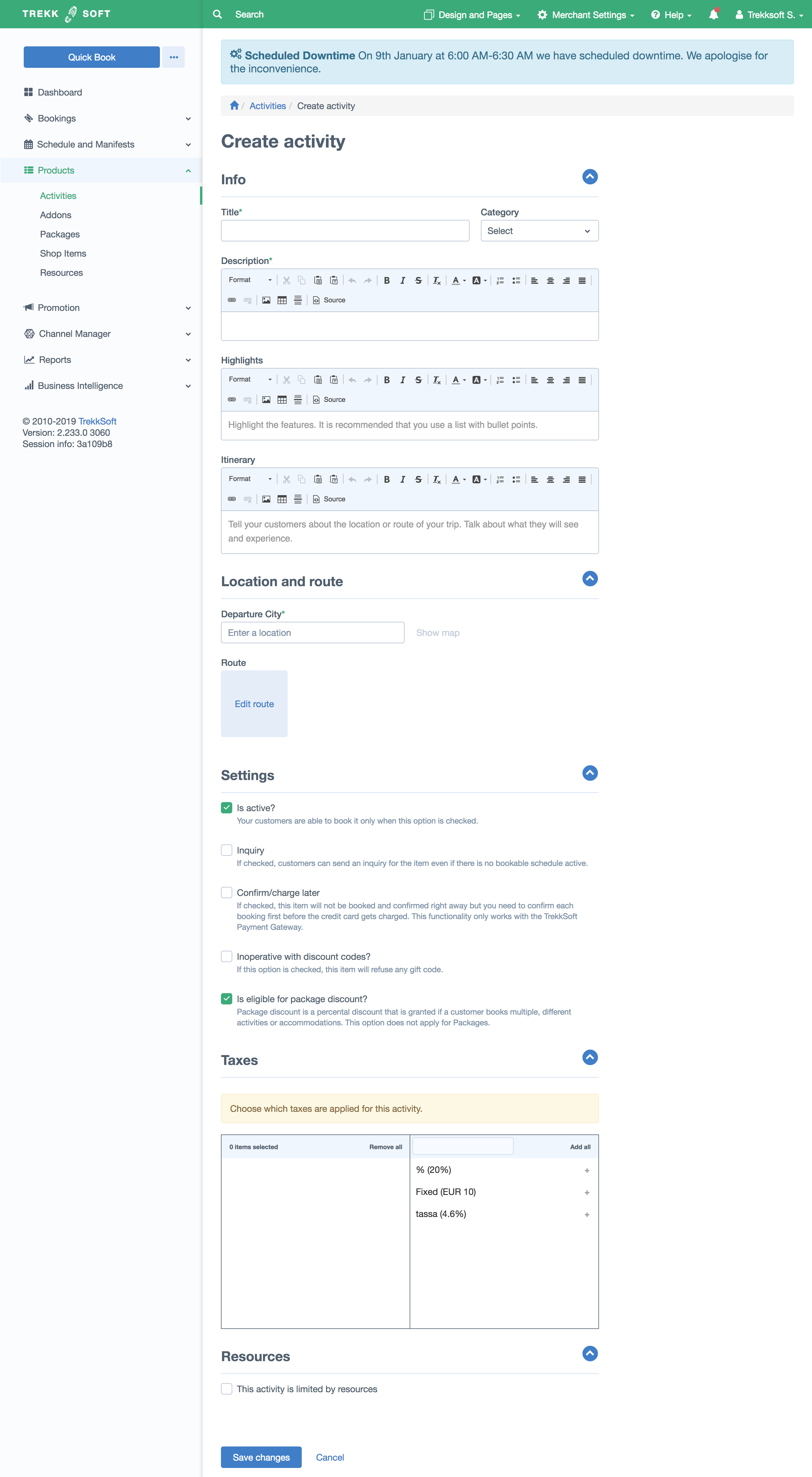 Info: The basic information related to your activity: title, description, highlights, itinerary, departure city, and the route (if your activity has more than one stopping point).
Settings: Enabling you to customize your tours based on how you do business. Let's look at each option separately:
Is it Active? Is your tour or activity currently running? If yes, tick the box. You can deactivate (untick) this option off-season or if you want to discontinue the tour.
Inquiry: Activate if you want to enable website visitors to inquire about the specific activity (questions, dates, personal requests, etc.). To ensure you capture relevant information you can edit them from

fields

.
Confirm/Charge later:

When ticked, your customers will be able to book even if you have not yet confirmed the departure. In the meantime, the customer's

money will be reserved on their bank account and only charged once departure is confirmed. This decision is based on the minimum amount of guests or cut-off time. If choosing to cancel a tour, all registered participants will be notified via email. (

This feature only works with

TrekkPay

).

Activity Category:

What type of activity are you running? If using TrekkSoft's website builder, categories can be used in the Activity Finder, which makes it easier for your customers to browse activities.

Inoperative with Discount codes:

If checked, customers will not be able to redeem gift codes on this tour.

Is eligible for a package discount?

Package discount is a percentage discount that is granted if a customer books multiple, different activities or accommodations. Checking this box enables this package discount. Read about how you can adjust the discount here.

Select a Smartwaiver template: I

f you need your customers to sign a waiver before your trips you can always use the integration TrekkSoft-Smartwaiver.
Taxes: How is your activity taxed? Add the necessary taxes from one side of the box to the other.
Resources: If your activity requires vehicles (also incl. bikes and kayaks), specify each one of them so that you later can use them to calculate your activities' capacity.
When you are done entering all information, hit SAVE.
You will now see the Images and files module appear (see below). Here you can add images and videos to give more impact to your description.