Price categories
Having multiple price structures is useful when charging different fares for adults, children, seniors, students or group bookings, etc. These are referred to as Price Categories and you can add one or multiple categories to a schedule.
Add Price Category
Add Price Category: To add a price category, click on the labeled blue box. (See below)

In order to activate your price category, fill out the details below: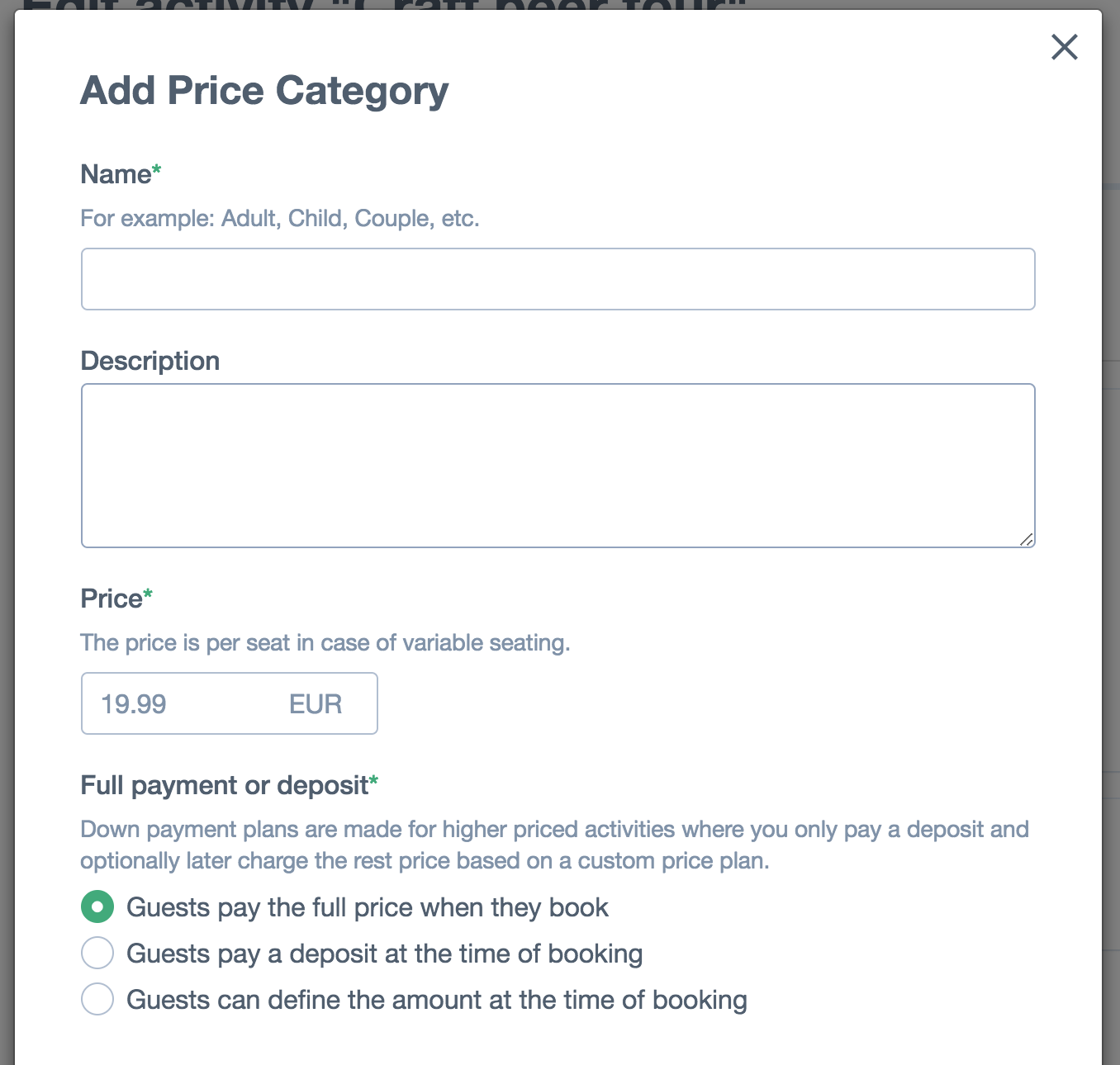 Name, Description and Price are elements that are visible to customers.
Full payment or deposit: How do you prefer to get paid? You can choose between the following options:
Guests pay the full price when they book: Guest is paying full amount upfront, prior to the trip.
Guests pay a deposit at the time of booking: Enables the guest to pay a part of the full amount when booking (amount defined by the merchant) and the rest on the day of arrival, in person.
Guests can define the amount at the time of booking: Enables the customer to pay an amount of their choice when booking and the rest on the day of arrival, in person.
When setting up payments beforehand (defined by you or the customer) we are using down payment.
Capacity
In this section, you are able to configure how the seating of our activity will work
Seating types:
Individual
These are single tickets where each booking represents one seat on your trip.
Example: If you have a boat for 20 people, and 4 people book with you; each of them will count as a single booking and will each have their own ticket.
Group Price
Group Price refers to group tickets. At the point of set-up, you will be asked to specify how many people each group can include.
Example: If you have a boat for 20 people and want to sell as many seats as possible, you can create group bookings of 5 to 10 people. If someone books for a group of 5 people, this booking will have one ticket but occupying 5 seats.
The number of seats occupied per guest: If this is an individual price category that occupies more than one seat on your trip, you can define it here.
Example: A "Couple" price category will occupy two seats on your trip. In this case, enter "2".
The available number of seats: You can limit the number of tickets sold per trip for this price category. If you only have 5 seats in this price category available, the price will be unavailable once these seats have been booked (if the trip has more seats available these will be sold with one of you other price categories).
If this is left blank, the trip's schedule capacity will be applied.
Exclusive/Private Price Category: Mark this if you offer a private tour. The private price category indicates that this is a private booking.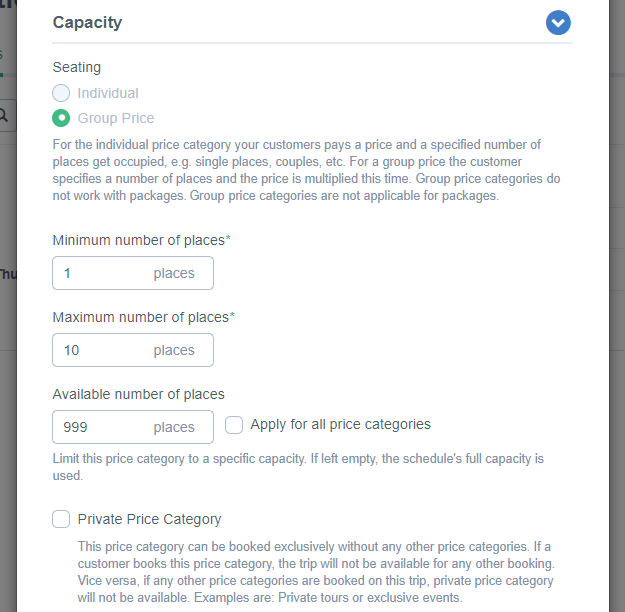 Settings
Guest information: If you want customers to enter their details before or after check out, or if you do not need their information at all, select an option that applies.
Resources: If this trip uses a specific resource or is limited by resources, select an option that applies.
Click Save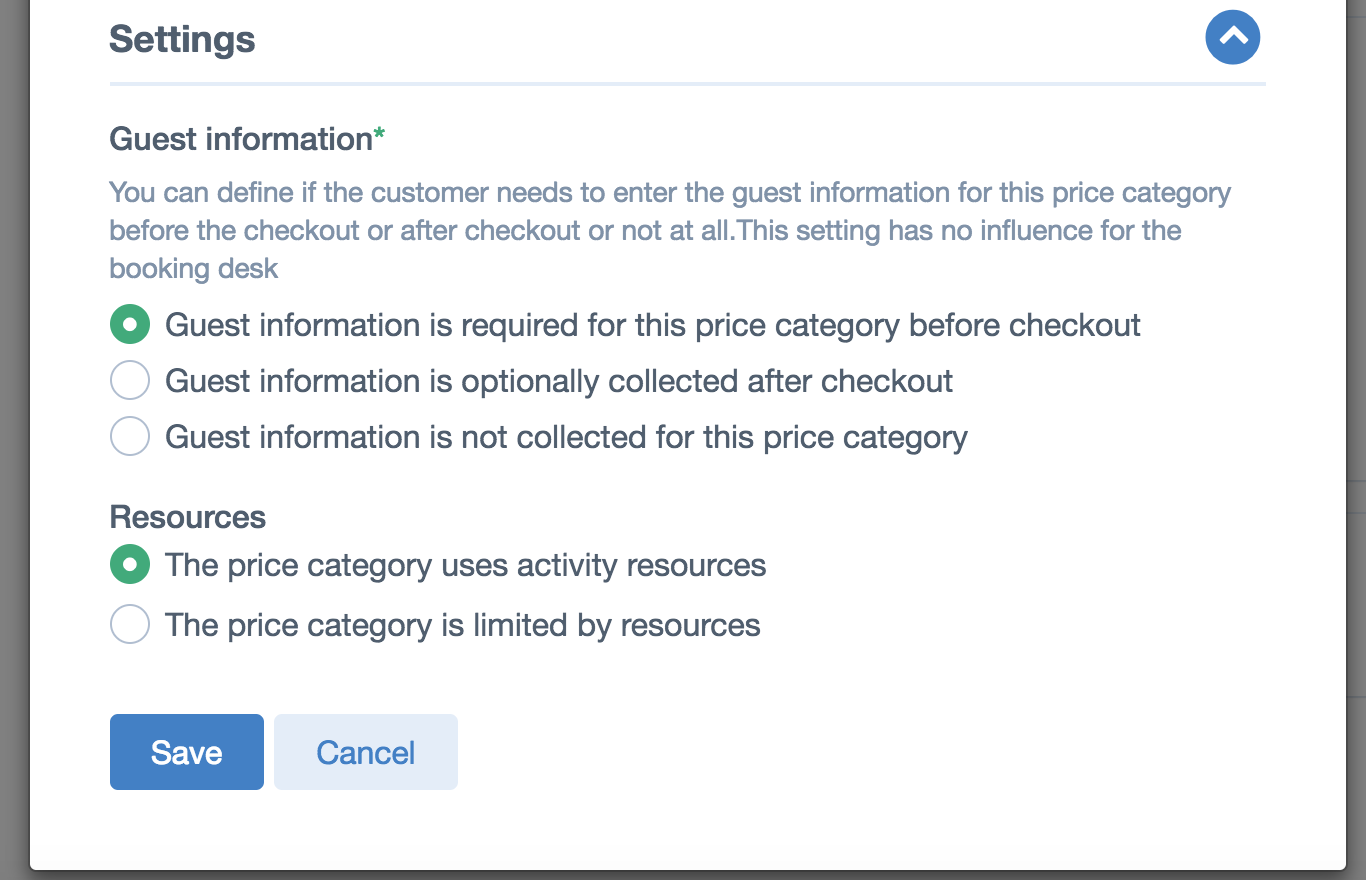 You can arrange the order of your price categories by dragging and dropping them within the list. The top price category will be taken as the default price for the activity.