Schedules exist so that your customers know when they can book a trip with you.
Without scheduling rules, the activity will not appear in the calendar and cannot be booked.
As well as times and dates, you can also enter the guest capacity for each trip.
Schedule and prices
Schedule and Prices will appear once you have created an activity. You can find this section on the top right on the same page (next to Activity).
Click on Schedule & Prices and then Add Schedule, as shown below.

Next, select a schedule type
The Attraction/Trip schedule is the most commonly used by tour and activity operators. Click on Add Trip.
(To see all the schedule types available, check out the What can you sell section.)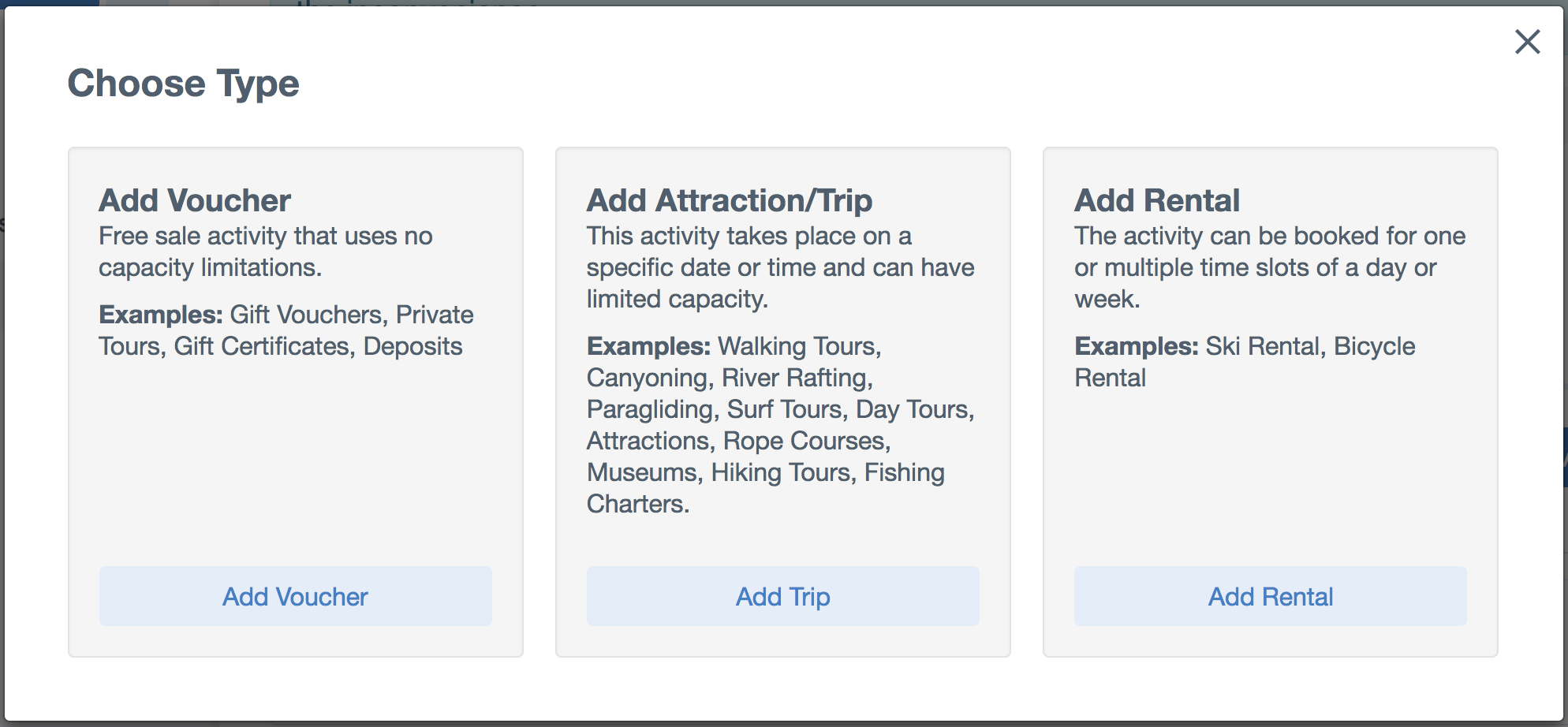 Module 1 - Add a schedule
Now, enter the details for this schedule
Listed, you will see the three different modules to fill out:
Name: For internal use and reference
Special Tagline: What your customers will see when booking the trip
Capacity: the number of people you can take on each trip. When this has been reached, the system will no longer accept bookings for this time slot. (And you will never worry about overbooking again!)
Mark the schedule as active. If left unchecked, the schedule will not be bookable.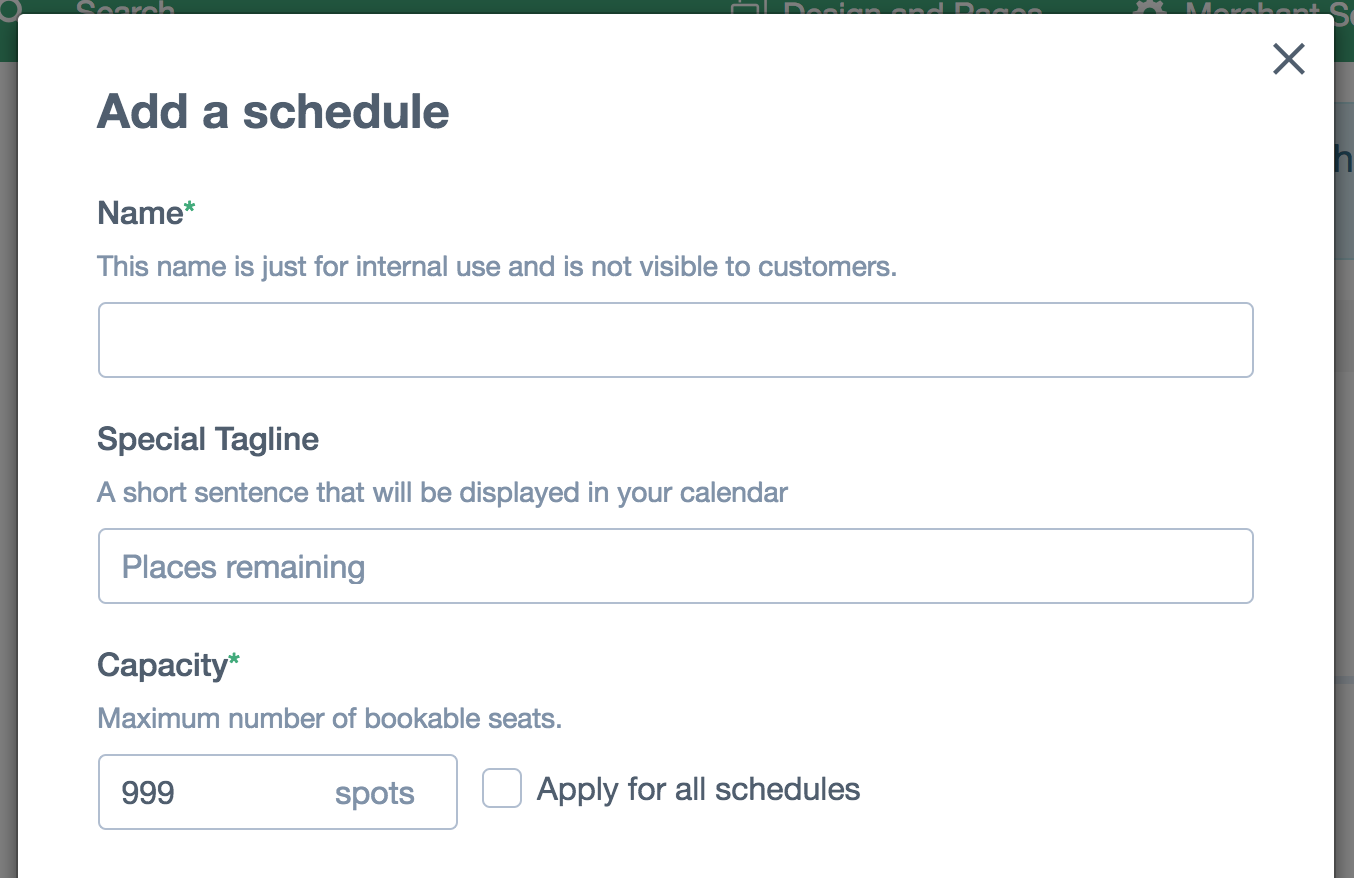 Module 2 - Time and date
Set up time and date by following the steps below:
Start Date: T

o indicate when you want this schedule to begin.

Start Time: Click the blue Add time button to set one or more start times. If you skip this step, your schedule will last from 00:00 to 23:59 (

Attraction Schedule

)

End date: You can set up an end date if your activity is not a one-time deal.
Repeat on: You can set up a recurrence for your schedule by selecting the days of the week this activity will be happening.
Note: Essential and Accelerate plans are limited to taking bookings up to 12 months in advance. Ultimate and Enterprise are able to take bookings up to 24 months in advance.
Module 3 - Other settings
Can it be booked after the start time? Check this box if you want to allow customers to book themselves on a trip/activity after the actual start time has begun. Appropriate if you want to enable last minutes guests to join.
Cut-off time: In minutes, enter your cut-off time. This will determine when the system automatically stops accepting bookings before a scheduled trip. If your cut-off time is 60 minutes, customers can not book this time slot 60 minutes prior to a trip.
Tag this schedule: This is used for reporting purposes to analyze trends and demand, etc. You can use it to categorize and filter on language, time of day or any other specific elements of your choice.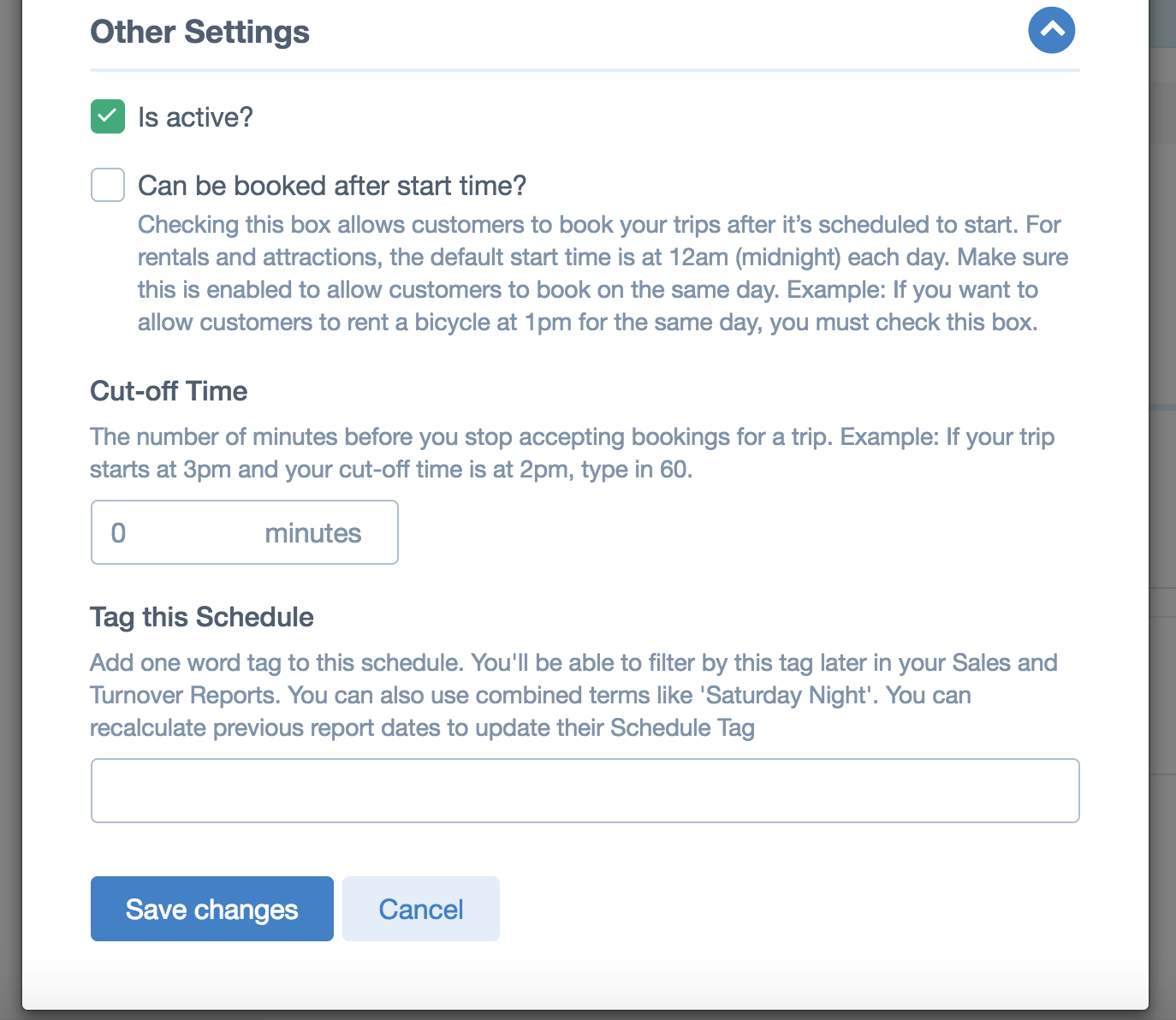 Make sure you save your work by clicking Save changes.