Download our new mobile App (mPOS) from the App Store or Google Play and benefit from several new functionalities.
We're delighted to announce our new TrekkSoft mobile App - the mPOS. It is now available in the Play Store and App Store.
You can download the new TrekkSoft App in addition to the existing App. You'll see that they both have different icons.
Existing App:

New App (mPOS):

Here is what we'll cover in this article:
What's new about the mPOS?
Better user experience
We added a couple of things that improve the overall user experience:
Easily navigate between the upper menu (Availabilities, Shop Items, Activities, Bookings, Checkout) and the menu in each section by swiping to the right side. Use also the filter options to limit your search to specific selections.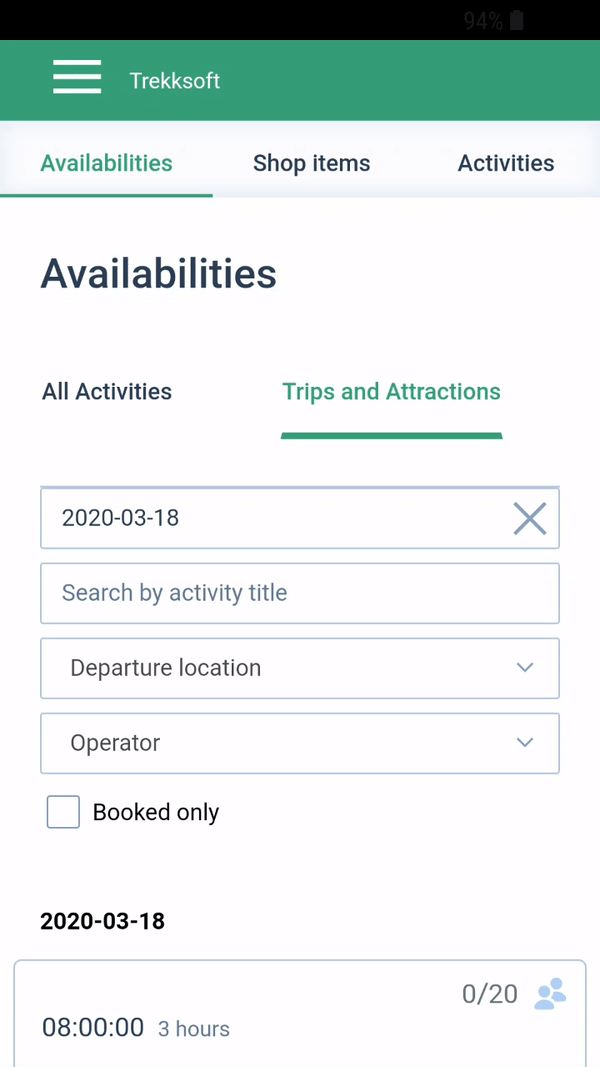 Aligned to the Point of Sale-Desk
The mPOS is more aligned to our existing Point of Sale Desk (POS) in terms of design and functionalities. This gives us the advantage to release new features for the Point of Sale and shortly afterwards as well for the mPOS.
We added pictures for activities, shop items and add-ons to illustrate In the booking part you an easily search for basket ID, user details or activity title
Instead of opening every action in a new window, the mPOS is now using more dropdown menus so you stay on the same page to click a certain action (e.g. adding guests). Only for more complex actions, e.g. adding add-ons we open a new window.
Shop items & Rentals
Booking of shop items as well as rental schedules are now available in the mPOS. This means, you and your team can book a bigger variety of items and also upsell customers on site not only with additional add-ons, but also shop items - everything in one cart - booked in a few steps.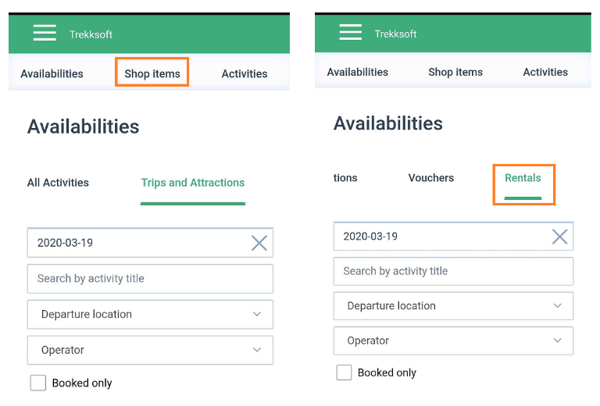 Rebook items and guests
In the mPOS you can now easily rebook booking items as well as single guests. A huge time saver is that, if you have a booking with 2 adults and 2 children, you don't have to rebook those per price category, you can simply just rebook the whole basket and it will take over the specific price categories for the new date.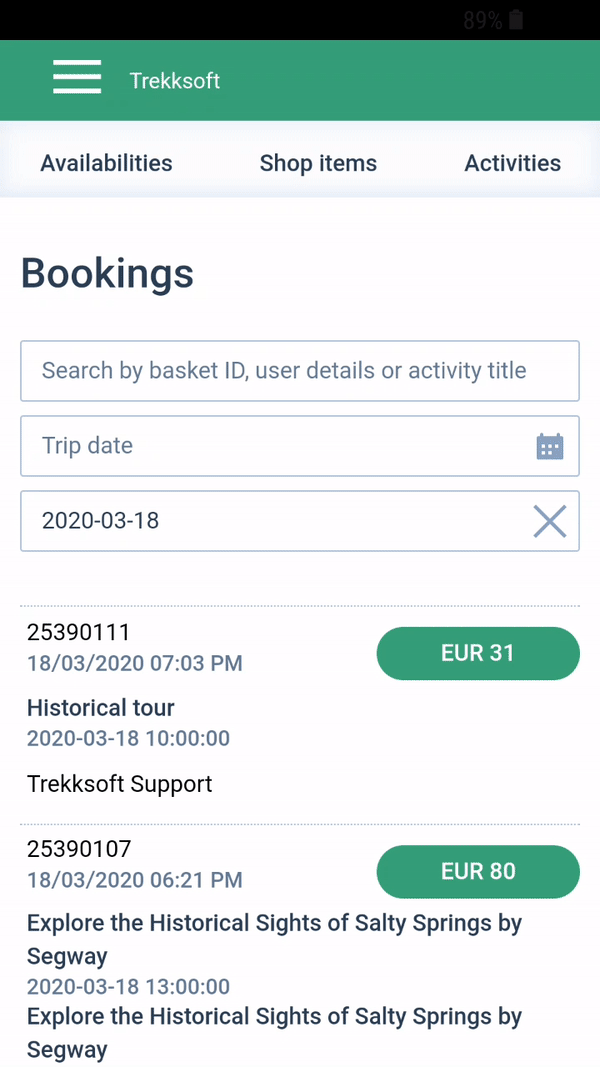 Custom Price Category
In the new mPOS you have the option to add a new custom price category for a certain availability.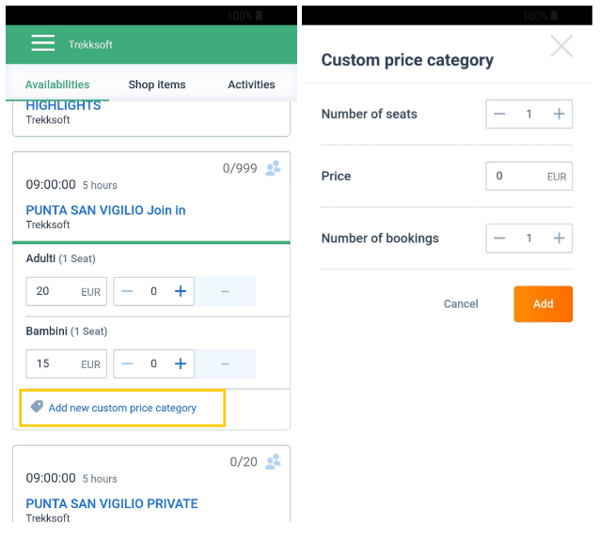 Guest manifest access
Simply click on an active (blue) icon in the availability to access the guest manifest. You can also access the guest manifest from the booking itself.
Check-in and check-out guests
Easily check-in and check-out booked guests directly in the guest manifest.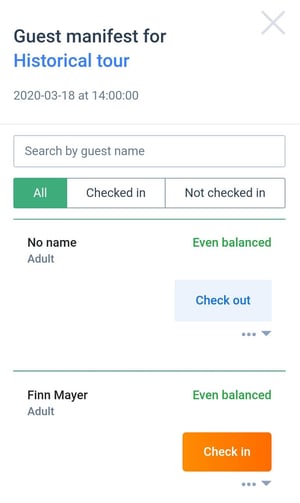 You can check-in guests faster by using the "Validate Tickets" option. Here you can either scan a QR-code or enter the ticket number manually. As soon as your ticket is validated the guest will be checked-in already in the guest manifest.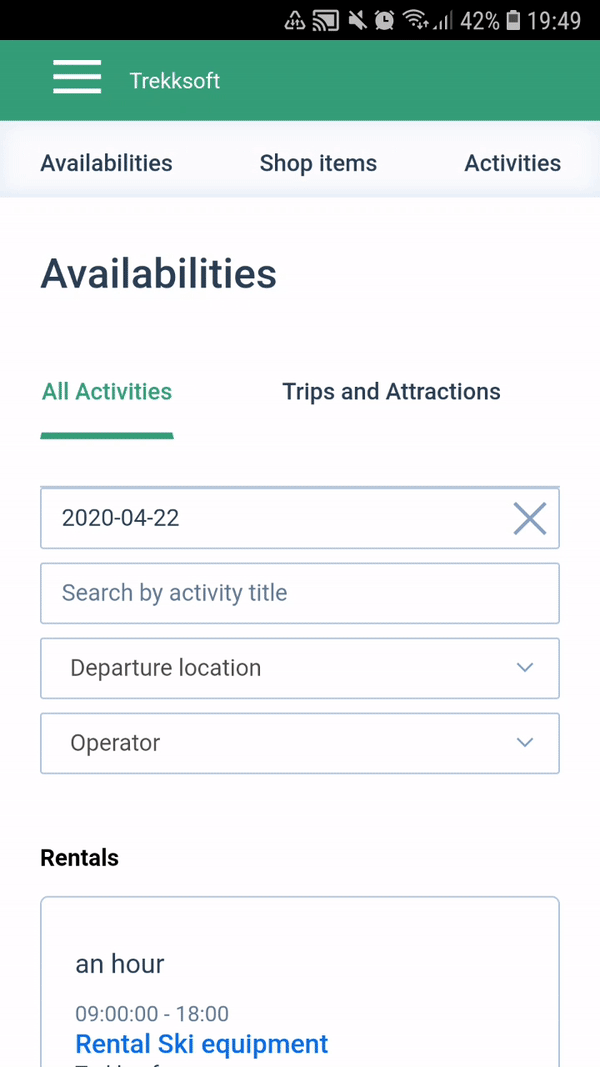 Daily Cash Report
You can use the daily cash report in the mPOS to see how much money your agents, drivers or guides have taken in cash on a specific day.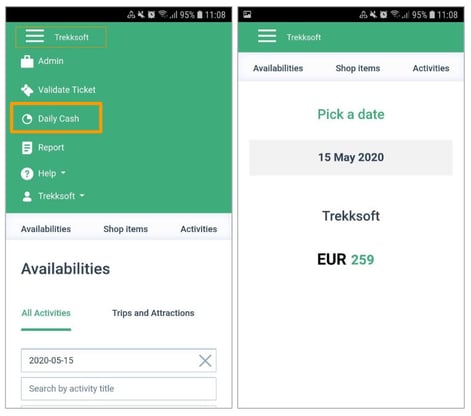 Using the mPOS on an iPad
What will be added soon...
Compared to the existing mobile app, the mPOS is not yet offering features like:
Managing capacities of activities in App
Edit guest data/ custom field
Those changes will follow as soon as possibe and we keep you posted. Keep in mind that all changes/ new features, etc. we'll do for the POS Desk in the upcoming weeks, will also later be implemented in the mPOS too.
Now, just download the new TrekkSoft App in App Store or Google Play and check it out on your own.
Give us your feedback!
If you've tested out the app and would like to share your feedback with the Product Team, please head on over to this form.