There are various ways to view your schedules and recent bookings. For quick access and a general overview, here are two ways to view your bookings.
From your Dashboard, you can see your latest bookings on the right side of your screen.

To see all your baskets, go to

Bookings > Overview

. For more information about each basket, click on Basket Details to view the referring Agent, PDF documents, payments, rebates, or any other relevant information.
For a more detailed view of your schedule and upcoming bookings, go to Calendar View or Schedule View. You can find these under Schedule and Manifests in the right menu bar.
The Calendar View
Here, you'll find a standard calendar with all your activities, times and capacities in a convenient, easy to read layout. You can select a monthly, weekly or daily view.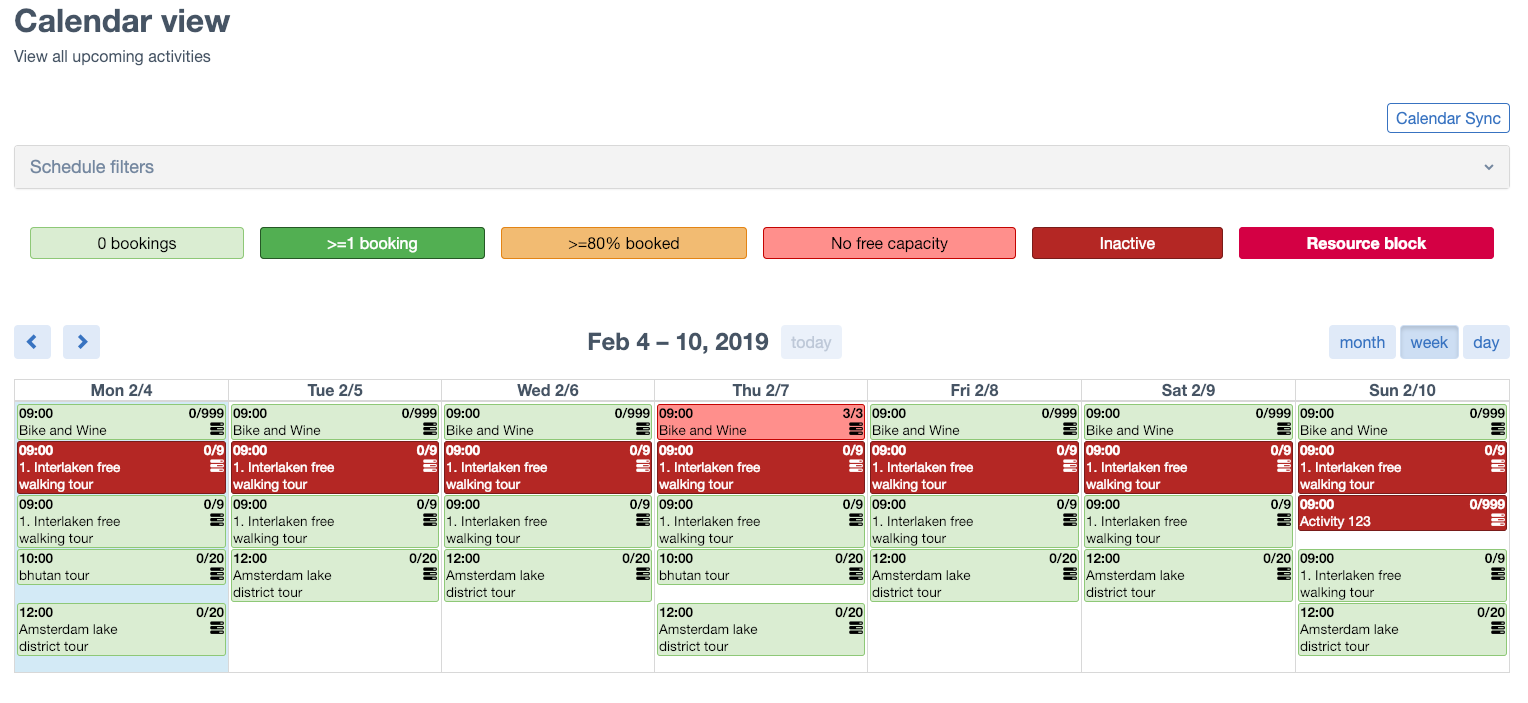 Each activity on the calendar is color-coded based on its current capacity. To view the occupancy and capacity for each activity, click on the icon on the right.

From the Calendar View, you can:
Modify the capacity of each price category by clicking on the icon to the right of an activity.

Check the Guest Manifest by clicking on the name of the activity.
Schedule View
In the Schedule View, your bookings and schedules are displayed according to the next available activity.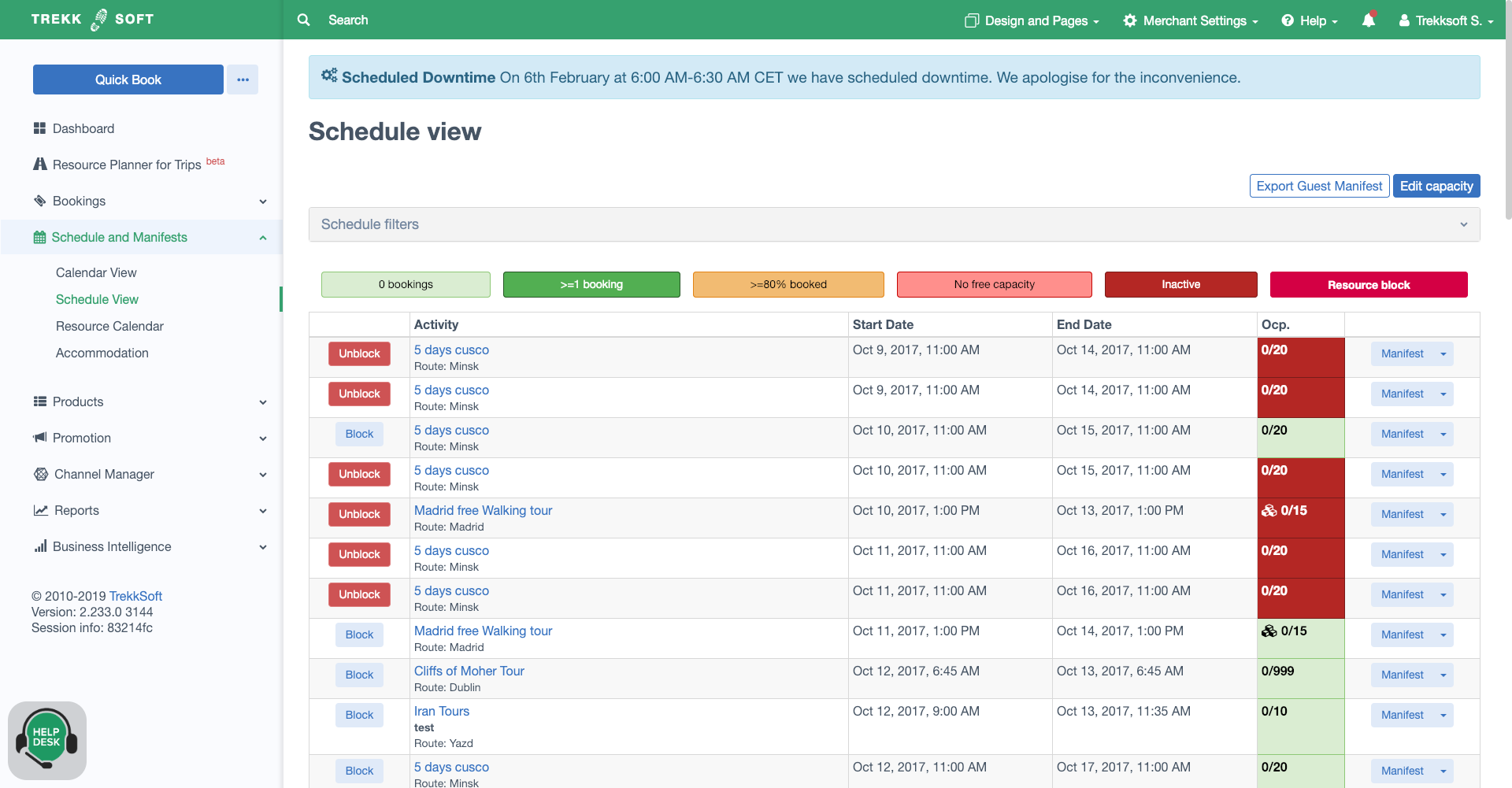 From the Schedule View, you can:
Access your Guest Manifest by clicking on Manifest on the left to the specified activity.
Export the Guest Manifests for a specific date by clicking on Export Guest Manifest in the top right.
Edit the Capacity of multiple trips at once by clicking on Edit Capacity in the top right. Once completed, click on Exit Capacity Editing. *Note that you cannot edit capacity for your partner's activities.

Edit details for a specific trip by clicking on the arrow icon next to Manifest. In the drop-down menu, you'll find options for you to edit your activity and more.
Schedule filters
For companies managing a high volume of activities, use Schedule filters to select the activities you wish to view.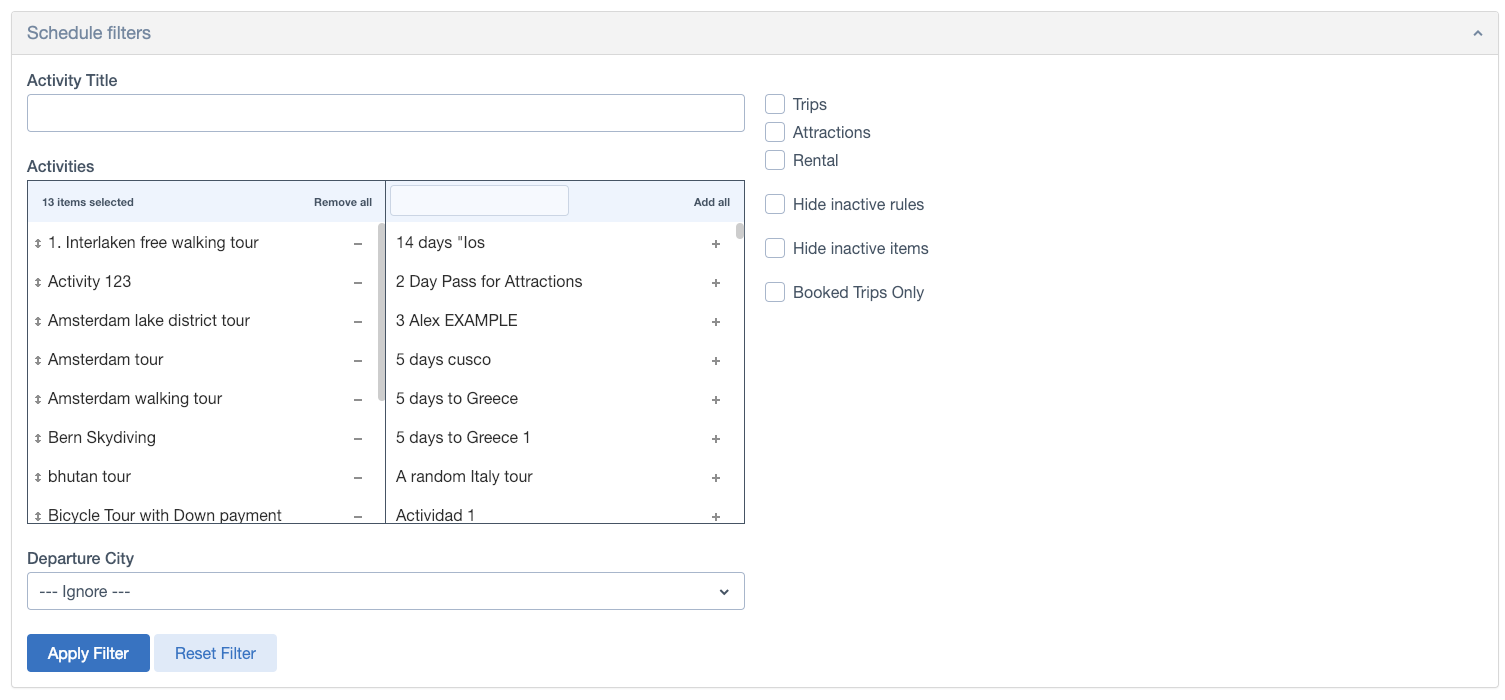 Here's a rundown of the different types of filters you can use:
Activity Title

- Search for activity by title.

Trips/Attractions/Rental

- Select which types of availability rules to show.

Activities

- Select multiple activities to show up in the calendar.

Booked Trips Only

- Only show availabilities that have bookings.

Hide Inactive Rules

- Do not show availabilities that belong to a blocked or inactive rule.

Hide Inactive Items

- Do not show availabilities blocked or inactive.

Departure City

- To edit the availability rule, click on the activity time on the top left of the item.