We want to take a look back at 2022 and recap on all the features and changes we implemented.
For 2022 TrekkSoft's development focused on the sales tools (Widget, POS & mPOS) and an intuitive UI/UX. Let's have a look what new features we added to our product in 2022.
P.S. We will only refer to the bigger changes in 2022 in here. For all smaller improvements and fixes, please have a look at our product update pages.
You want to get a live demonstration of all new implementations of 2022? Then join our webinar on 18th of January where we recap on 2022 and also give an outlook into our roadmap topics for 2023.
---
Deprecation of Booking Desk and fully focuson our POS Desk
Booking Widget - Drive urgency in calendar
Booking Widget - Quantity label
Booking Widget - Definition of addons
Booking Widget - Related products
Re-Design Booking Overview & Basket Details
Group Pricing: Variable and fixed seating
Activity Categories for OTAs mapping
New marketplaces: TOMAS and Gloog
Deprecation of Booking Desk and fully focus on our POS Desk
One of the biggest topics at the start of 2022 was replacing the Booking Desk with the Point of Sale (POS) Desk. This change allowed us to fully focus on the POS Desk in 2022 including the mPOS.
For achieving feature parity between the to be removed booking desk and the POS Desk, we implemented the following functionalities in the POS Desk:
Multi language support (EN, ES, IT, DE, NO, FR)
Package support on POS Desk
Add additional guests or addons to an existing booking
Copy guest data from another basket item
Change buyer/ create payment link
Create a custom booking
Agent permissions were reviewed and we added new ones: Modify not only own bookings, change capacity
Improved filter options in the availabilty list (booked only), in guest manifest (custom field, payment status), show guest add-on in guest manifest per guest
Activity Permission per Agent
You're working with several agents? Now you have the option to also decide which activities your agents should have access to.
The activity permission feature allows you to show/ hide certain activities for agents on POS Desk. It gives you more flexibility on which activities your agents are allowed to sell and which not.
By default, all activities (that are set up in your own account) are visible to all your agents. Right now, you are only able to enable/disable activities for agents that are set up in your own account. Packages and partner activities are not yet supported.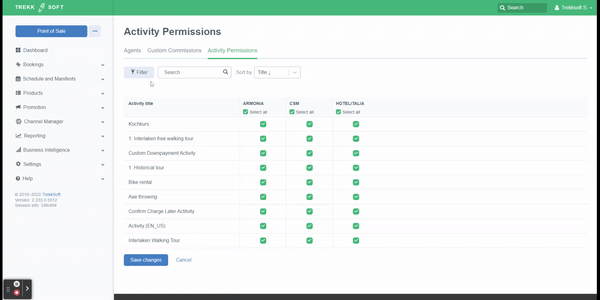 You have a bunch of agents you're working with? Then use the importing file functionality to update your existing agents, their commissions and their permissions.
Booking Widget
Calendar drives urgency
In the widget, sold out dates are now not only marked in red, but are also scratched out. Additionally, we now show only the dates of the month that's selected in the calendar.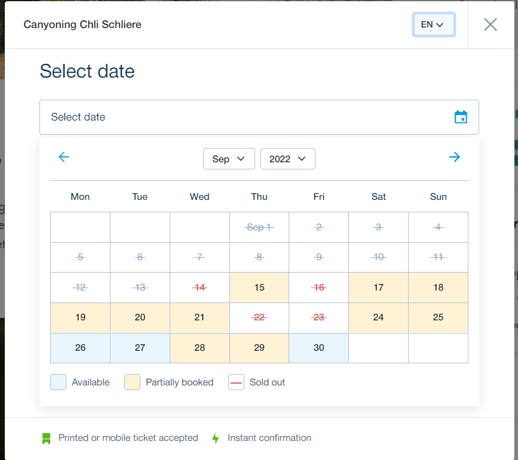 Sold out status for fully booked schedule times: Before we only showed the sold out/ partially booked/ available on the calendar overview, now we also show "sold out" when one schedule time isn't bookable anymore. Before it allowed you to go next and then caused an error.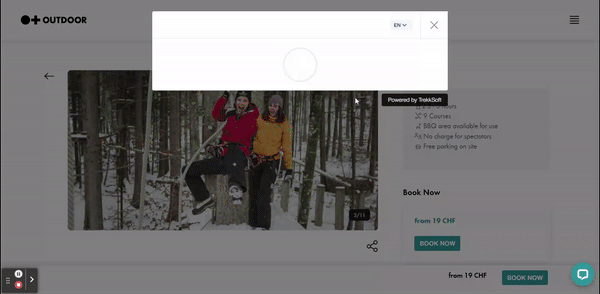 Quantity label for booking widget schedules
You can now edit the label (default: seat/s) that shows up in the time slot selection in the booking widget calendar. Especially if seat/s is not your main label, you can now specify it in the schedule section (incl. translation), e.g. kayak(s), boat(s), or completely hide it. No matter which label you choose or if you hide it, in the mobile version of the widget we always show "XX available". Additionally, this change also reflects on the receipt that is sent to your customers.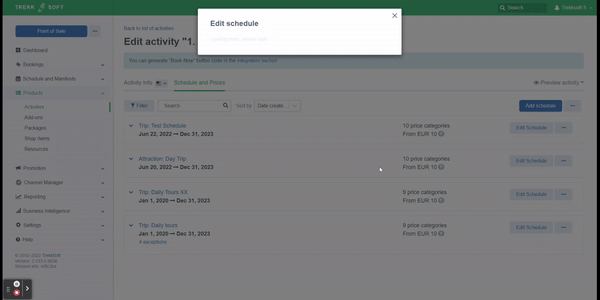 Define add-ons per activity
You now have the option to define not only which add-ons to show for certain activities, but also the order of add-ons.
Go to your activity setup, scroll down to "advanced options" and see the new add-on section here.
Here you'll see all add-ons you've setup in the add-on page (active ones) and can
1) select the ones that should show up during booking process and
2) define the order by drag & drop it to the top/ bottom.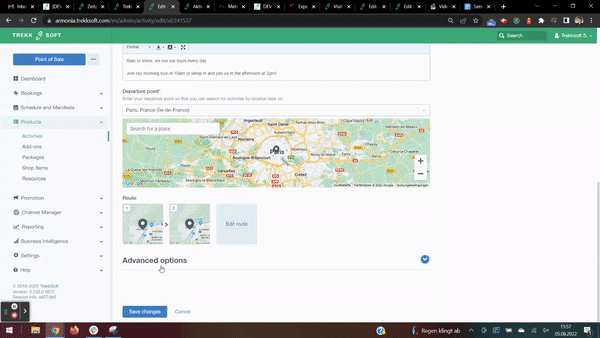 This allows you to position certain add-ons more prominently within the checkout process where you already know your customers are likely to purchase them.
Define related products per activity
Define now which activities should show in activity details and on the thank you page per activity.
Find out more here: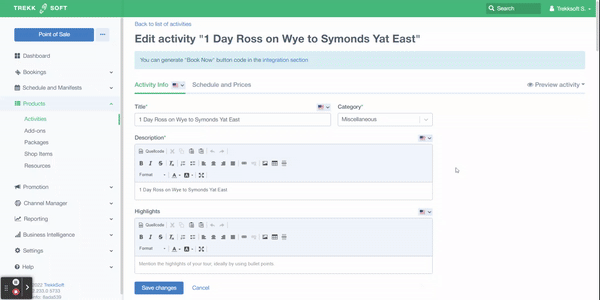 Re-Design of the Backoffice - Booking Overview & Basket Details
Based on our customer's feedback, we are working now for some time in re-designing the most important parts of the TrekkSoft Backoffice. First, we'll re-design the Booking Overview (released in November 2022) and the Basket Details (planned for January 2023). Then we will have a look at the calendar and schedule view and the guest manifest.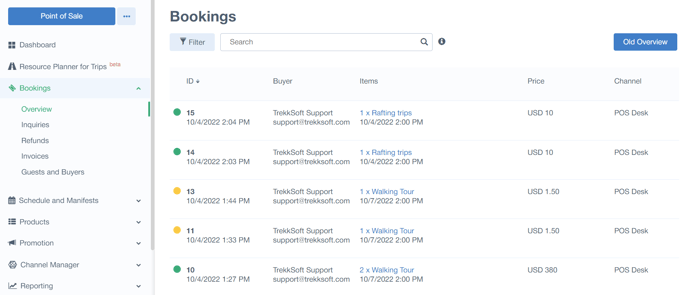 The re-designed backoffice parts come with a new look, an intuitive user experience and a cleaner view. During the re-design process we tried to take out complexity, by removing certain actions that can be also done in other places of the backoffice, and simplify the view. All this happened based on our customer's feedback as well as considering data from our analytic tools.
The biggest benefit of the re-design project actually is, that the sections will be responsive and allow you to access it on a mobile device without any difficulties.
Have a look here to see how it will look.
Group Pricing - fixed & variable seating
We have now an additional parameter (fixed/variable) to choose, when using a group pricing.
Group price fixed: one fixed price no matter how many guests are selected.
Example:
You have one boat that can take up to 10 people, but the price for the boat will always be 500 Euro, no matter if 5 people or 10 people book it.
Group price variable: multiplies the price with the selected number of guests.
Example:
You have one boat that can take up to 10 people. You want to charge by the number of people that book, so you can set a price at 200 Euro. If 5 people book the boat, it multiplies 200 Euro by 5, and they pay 1000 Euro.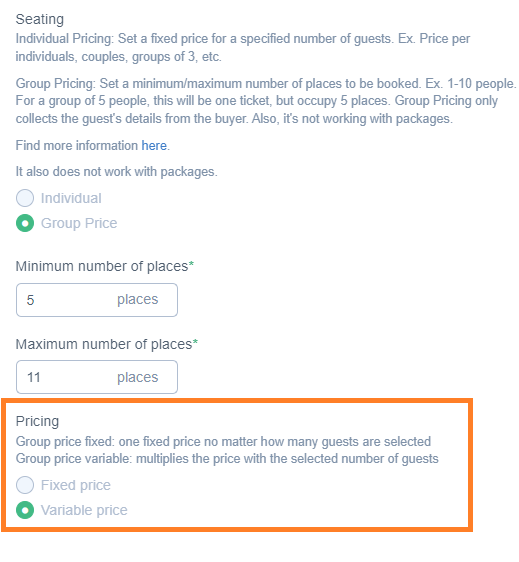 Update activity categories aligned it to the OTA ones
We've updated our internal activity categories to align them better to OTAs. This means, we renamed or split existing categories and also added new ones.
Additionally the category field in the activity setup is now mandatory, as this information is crucial when working with multiple channels and simplifies the mapping process on OTAs.
What you have to do: Please have a look at the new categories (explained below) and review your activities accordingly, to find the category that best represents your activity.
New categories
Food/Wine Tours (former: Food, Wine & Nightlife)
Nightlife Experiences (former: Food, Wine & Nightlife)
Biking Tours (former: Walking & Biking Tours)
Walking/Hiking Tours (former: Walking & Biking Tours)
Sightseeing Tours (renamed)
Theme Parks
Watersports/Tours (formerly 2 categories: Water Sports and Cruises, Sailing & Water Tours)
Airborne Experiences (former: Air, Helicopter & Balloon Tours)
Attractions/Museums/Galleries/Aquariums (former: Cultural & Theme Tours)
Events (former: Shows, Concerts & Sports)
Special Interest (former: Weddings & Honeymoon)
Adventure / Adrenaline Tours (former: Outdoor Activities)
Equipment/Gear/Rental (new)
Safari & Wildlife Tours (no change)
Family Experiences (new)
Transportation (new)
Vehicle Tours (new)
Natural Attractions (new)
Miscellaneous (former: Others)
New UI/UX on mPOS
Credit card scanner: Now you have easily the option to collect payments on site by just using the newly implemented credit card scanner app (powered by card.io). You can take a booking and let your guest easily pay with a credit card. Just click use cc scanner, scan the credit card and add expiry date and CVV, that's all.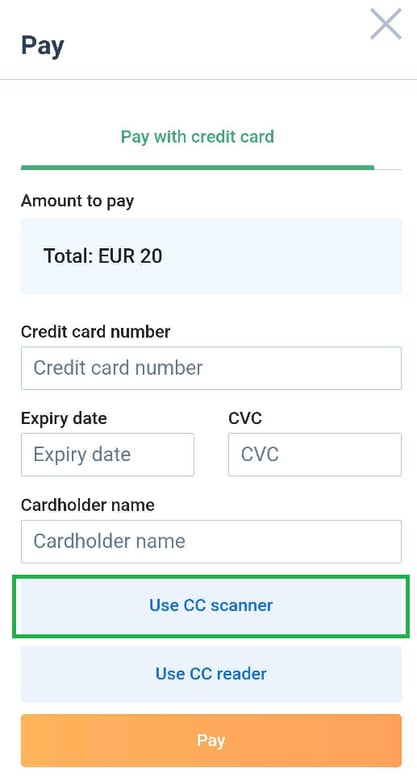 New mPOS navigation
To make our mPOS app more intuitive, we moved the navigation (from the top left) to the bottom of the app and replaced it with intuitive icons. Due to a separate shopping cart icon, it's now easier to see as soon as something has been added to the cart. As part of the navigation review, we also positioned the ticket scan functionality permanently at the top right of the screen, so wherever you are in the app, you can use it within one click.

Reduced space of each availability box + hidden filter, to see more availabilities immediately
Added functionalities from POS Desk: Filter for guest manifest (custom fields, payment status), see guest addon in guest manifest, filter for availabilty and booking section, etc.
New marketplaces: TOMAS and Gloog
We have 2 new marketplaces on board.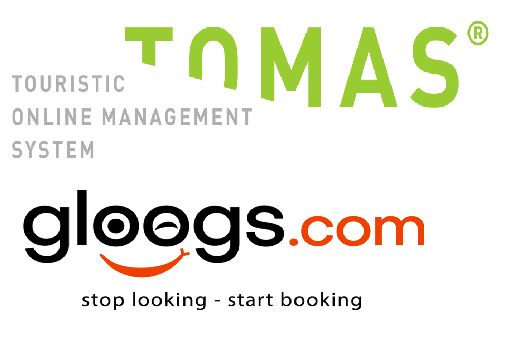 TOMAS® is a leading destination management system in the DACH region. Specialized in accommodation, packages, city tours, experiences, etc.
Gloogs.com: Find your next adventure on the island of mallorca. We provide access to the most fun and exciting activities on mallorca.
You want to get a live demonstration of all new implementations of 2022? Then join our webinar on 18th of January where we recap on 2022 and also give an outlook into our roadmap topics for 2023.