Package Activities feature allows you to take your bookings to the next level by giving you the possibility of selling two or more of your activities together, as a pack.
Last update [June 5, 2022]
---
What can be done with Packages?
Clients will directly book for two or more activities within your own catalog at the same time.

Creating a Package is putting 2 or more of your previously created activities together and assigning a price to it.

When it comes to ticketing, a Package uses tickets of packaged activities with a front cover page in front that lists all the activities inside the package together with the final price

You're able to share activities and include them in one of your packages in order to sell them. This means that you can combine your own and your partners' activities and sell them as a package deal.

________________________________________________________________________
Creating a Packages
Go to Products > Packages and hit on the button Add package.
Note: Please be noted that you have created two or more activities already at this point.
________________________________________________________________________
Steps to create a Package
The first step is exactly the same as creating an activity: fill in the name, description itinerary… give some context to this package!





When you click on "Allocate Activities", read through the welcome information and create your Package matrix:



Each row it's a different package. To start adding activities, click on Add Activity in the first column: select the activity from the pop-up.
Then, add the schedules you want for that Package (in case you have more than one); the number of times you want the activity to be offered in the Package, and the price you will charge for it all: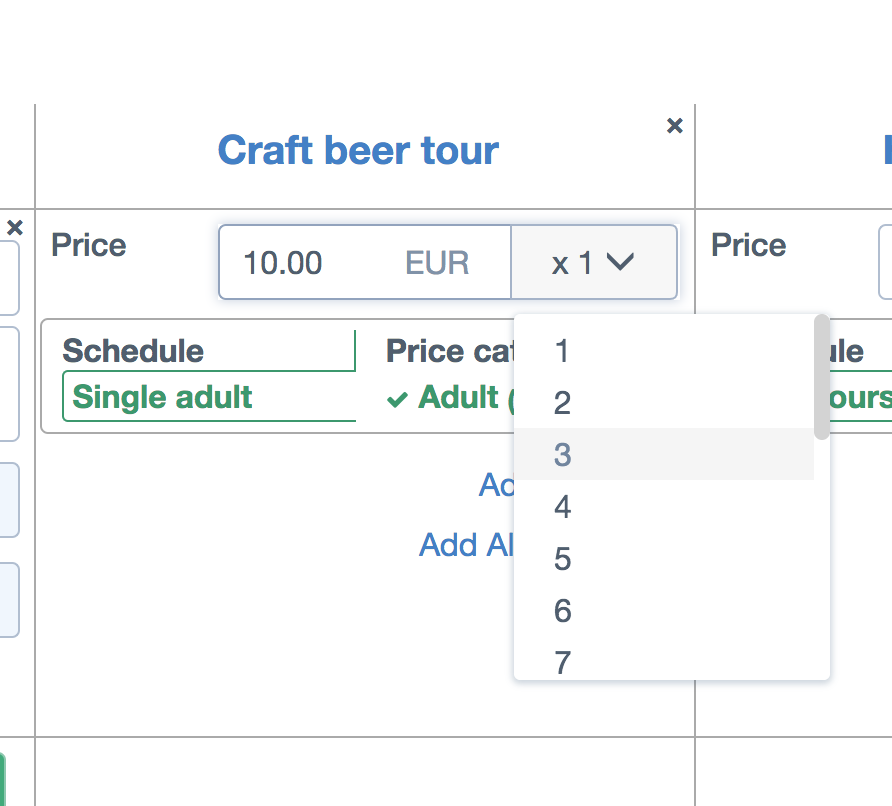 IMPORTANT!
Confirm and Charge later: The activity with the "Confirm and Charge Later" feature enabled can't be added to the package. Learn more about the "Confirm and Charge Later" feature here.
Price: Packages are not compatible with Variable Prices or Exclusive/Private Prices.
Schedule: Only trip/attraction schedule type will be available for the package.
IMPORTANT TIPS!
TIP 1. By selecting "3 times" it means that the final client will have to choose an activity three times (ex. 3 times Rafting activity inside River Package).
TIP 2 If you want your clients to have different schedule options, you can click on Add Schedule or Add All Schedules below the activity you just added, to offer the same activity, but at different times.
TIP 3. If you want to create another version of the same package (ex. Package for Kinds and for Adults), click on Add Package Option, following the same steps, you will have another Package Option created.
________________________________________________________________________
Restricted Packages
When creating a package you'll see the checkbox "Restricted option?".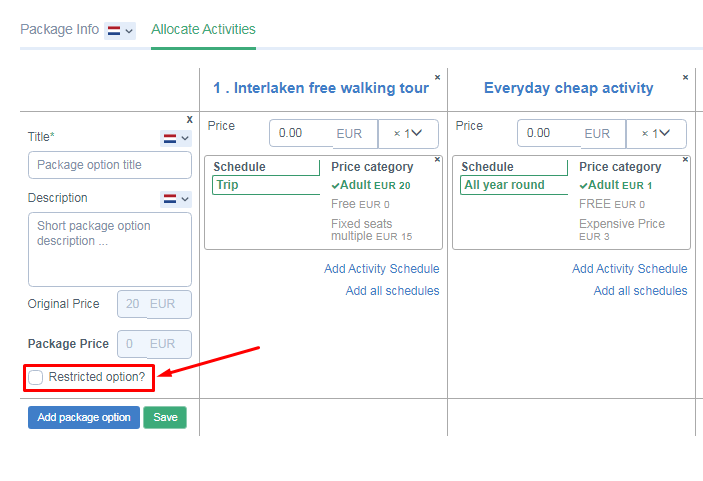 By selecting this option you're restricting some of your schedules to be illegible to be booked within a package or not.
In the example:
I restrict the package with 3 activities:
Everyday Cheap Activity (start times: daily every hour for 12 hours, duration 2h)
Bicycle Tour (start times: daily at 9 AM, 10 AM, and 11 AM, duration 4h)
Cliffs of Moher tour (start times: daily at 05:00m, 06:00pm, 07:00pm duration 3h)
And when creating a package I restricted the following ones:
Everyday Cheap Activity (only at 9 AM, duration 2h)
Bicycle Tour (start times: daily at 9 AM, 10 AM, and 11 AM, duration 4h)
Cliffs of Moher tour (start times: daily at 05:00pm, 06:00pm, 07:00pm duration 3h)
This restricts the buying guest to selecting only the date and time for every day Cheap and the rest is given for the same day.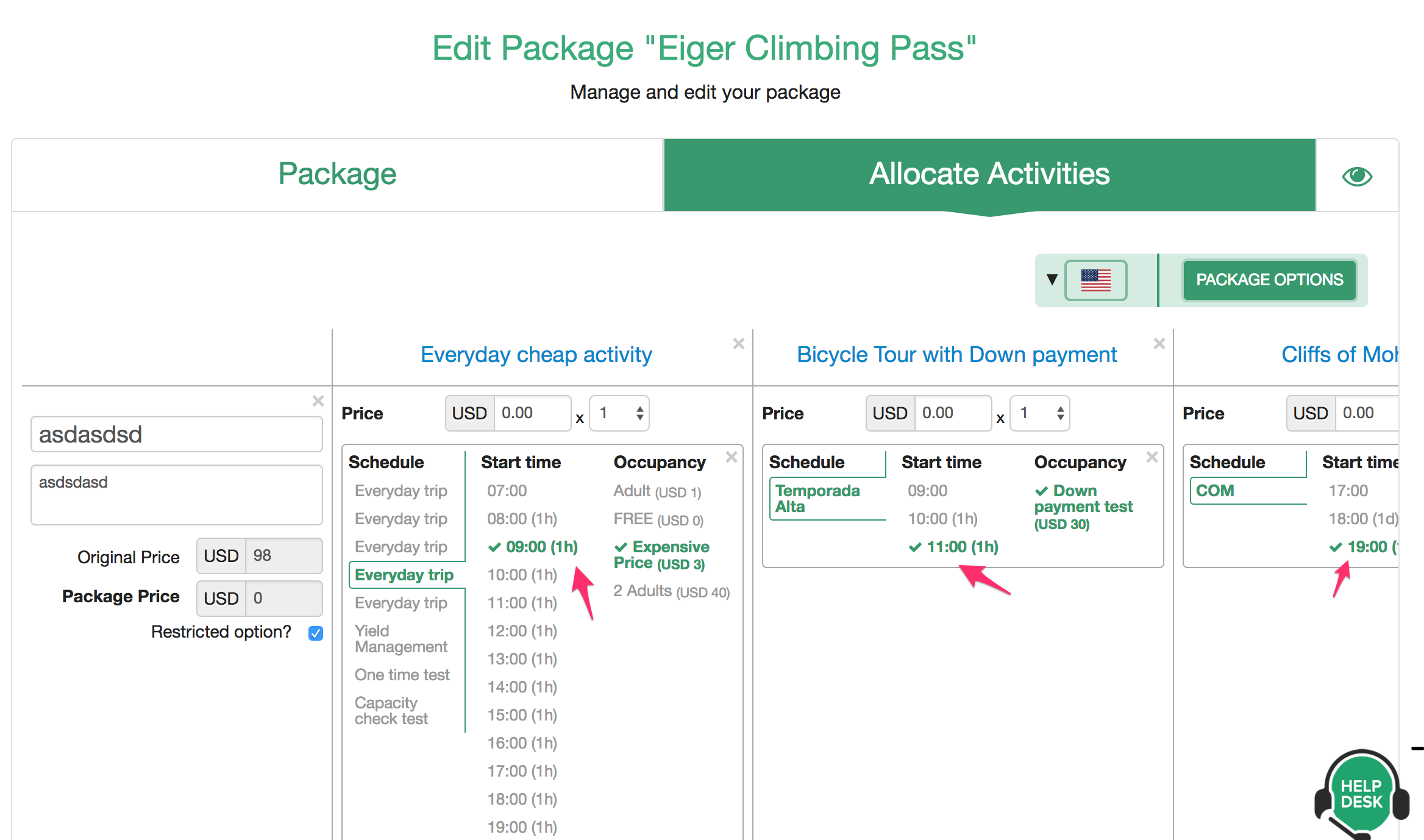 ________________________________________________________________________
How to configure Custom Fields For Packages
Inside a package, we can have different types of activities for which we may need different information, or the same information for more than one activity.
Custom Fields in TrekkSoft are ready for this: when creating a custom field, you need to allocate them to the necessary activities, and if you need to ask for the same info in two different activities, you only need to select this option:

________________________________________________________________________
Partner Packages
You can now create packages including your partner's activities.
The creation of the package will be exactly the same.
When selling them both baskets (provider and reseller) will show the same Booking ID.
Under Reports, it will show on the Sales report for the seller; and Partner Reports for the activity provider.
IMPORTANT! Please be noted that only activities set up with Net Rates will work for packaging. Know more about how to set up Net Rates here.