What is 3D-Secure?
3D-Secure was designed to enhance security by requiring greater authentication when using debit or credit cards for online purchases. The name varies depending on the card type, "MasterCard SecureCode", "Verified by Visa" and, in the case of American Express cards, "Safekey".
With 3D-Secure, after a customer has entered their card information, he or she is asked to enter a password that helps the card issuer identify the cardholder.
TrekkPay and 3D-Secure
TrekkPay users can now choose to activate 3D-Secure.
Once activated, 3D-Secure will only be triggered for payments above $200. For low-value purchases, which commonly happens on mobile, the added verification process tends to deter users from completing their payment.
For additional security, you can set up your TrekkPay payment gateway to only accept credit cards that have 3D-Secure. Here, transactions with cards that don't have 3D-Secure will be denied and your customers will be asked to use another card to complete the payment. To enable this option, please speak to your Account Manager.
Activating 3D-Secure
Step 1: Log in to your TrekkSoft account and click on Merchant Settings in the top menu bar. Then, select Payment Gateways.

Step 2: On the Payment Gateways page, tick the 3D Secure box.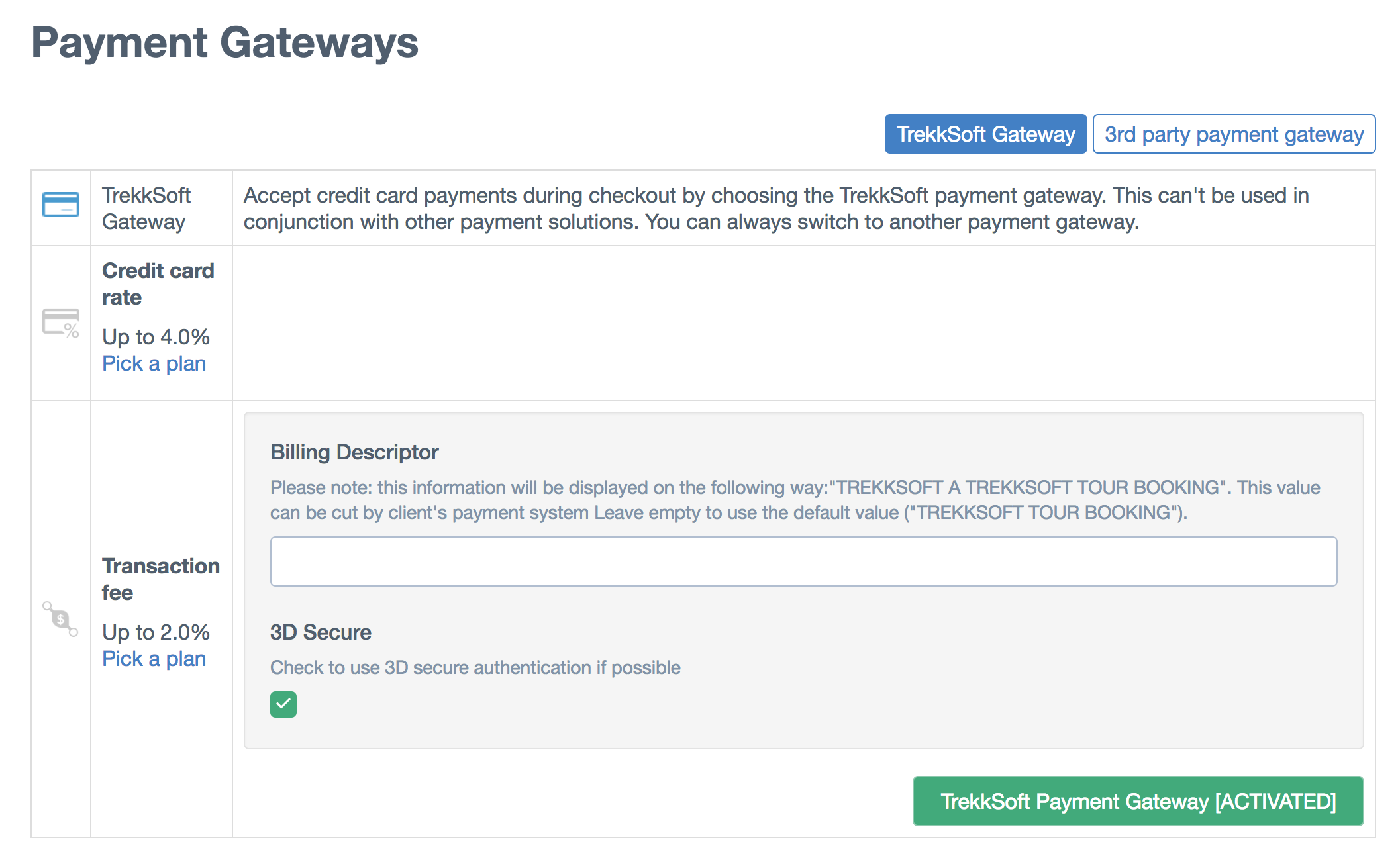 Step 3: You're all set, your 3D-Secure is live!
Advantages of 3D-Secure
3D-Secure reduces the risk of fraudulent transactions and decreases the number of disputed transactions. It boosts customers' confidence and helps you establish greater trust with customers when booking with you.
When a transaction is completed with 3D-Secure, it is the card's issuing bank that assumes the risk, not you, the merchant. More importantly, chargebacks are not permitted if you, the merchant, complied with the acquirer's legal requirements (i.e. 3D-Secure was activated; the payer was redirected to a website where card authentication took place; the authentication process was successful).
Disadvantages of 3D-Secure
While using 3D-Secure is recommended, the additional steps your customers have to take to make a payment can be inconvenient. At the end of the day, you have to decide if this extra step will benefit your business.
Before making a decision, consider how much you stand to gain from not permitting chargebacks, how much of your business you protect by deterring fraud, and how much sales you might lose from this added step.