23rd April 2020 - We've got updates on Booking Widget 3.0 and mPOS!
Here's how to customise your booking widget and scan QR codes from the mobile app.
1. Adjust the placement of your shopping cart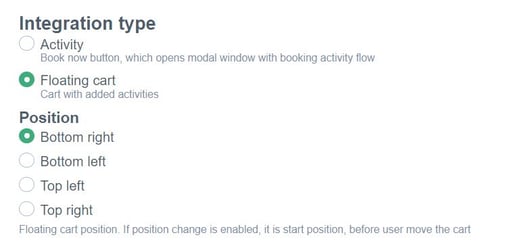 In the new Booking Widget, you now have a shopping cart that follows the user while they browse and book experiences on your site.
You now have the option to place your cart on different parts of your webpage, or you can allow users to drag the cart to different parts of the page.
Learn how to position your shopping cart here
2. Scan QR codes with mPOS

The new update allows you to quickly check-in guests by scanning the QR code on their tickets.
From the app, open the menu in the top left and select "validate Ticket" to open up the scanner. Then, you can easily scan the ticket and retrieve all relevant information about the booking.
Please note that this update is only available on Android at the moment.
Learn about the QR code scanner here