Get the latest updates on the booking widget, how it can improve booking conversions on your website and how to set it up.
Here's an overview of what we cover in this article:
What's new with our Booking Widget?
Keep customers shopping - Website users can now add multiple tours and activities into the same basket, and pay for it all in one go.
Floating cart - After selecting their tours, customers can click on 'Continue Shopping'. The checkout window will be minimised to a 'Floating Cart' that remains on your website until they checkout.

Design improvements - The new widget has a fresh look. Overall it has an easier and faster navigation, which will positively impact booking conversion rates on your website. It's simple design also means that it will fit in nicely with any website.
Discounts are clearly displayed when customers buy more than one tour.
Add-ons are more popular in the booking flow, making it easier for you to upsell customers.
Improved integration - The new widget integrates more seamlessly with your company's website, improving your customers' booking experience.
Accept more payment methods with an updated hosted payment page from TrekkPay.
Booking Widget types
Activity: When you would like to place a button on your website for a specific activity, which open the calendar straight away in a modal window. This widget contains the floating cart so the floating cart will show up on website pages with the widget code.
Floating cart: This code should be inserted where you do not have a `Book now` button, but you would still like the floating cart to show up. These should be pages where your guests might navigate during the booking process, such as your home page or your `Contact Us` page.
How to integrate the Booking Widget to your website
The new booking widget can be found under Admin Desk > Design and Pages > Website Integration > New Widget.
Here you can generate the widget code to insert to your website. Check out this video for steps to add the widget code to your website.
Additional Settings
Language
You can choose which language should be used first when someone opens the booking widget, so it matches the language of the page where you place it on your website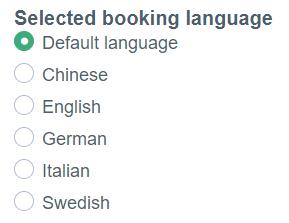 Selected optional agent
You can allocate an Agent to your `Book Now` button, so you can track how many bookings are coming from an agent's website and track the Agent Commissions as well.
Book Now button text
If you would like to change what text appears on the button instead of Book Now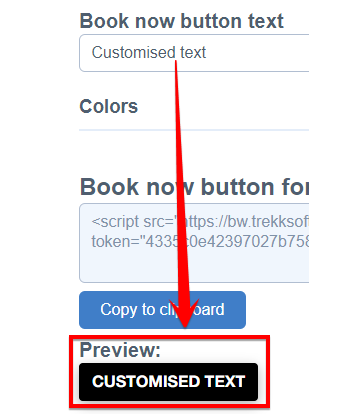 Colours
You can choose what colour the text and background colour of your `Book now` button should be by default and when someone is hovering over it. Please see the example below.
We have selected these colours: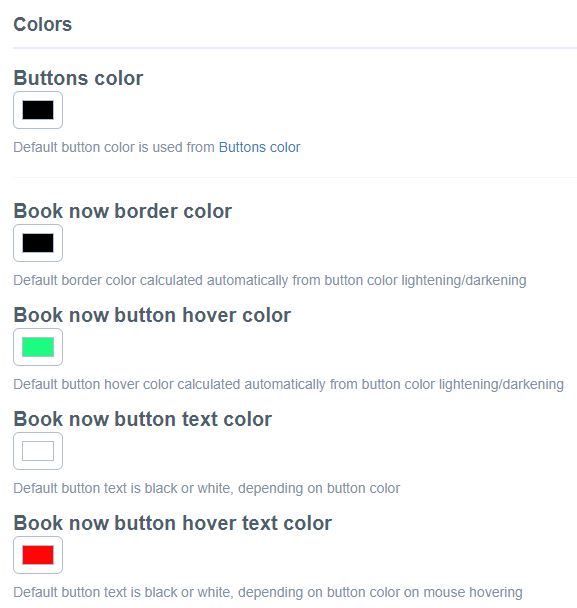 This is how the button looks by default:

This is how it looks when I hover over it:

Please keep in mind that the new booking widget won't support iframe integration. We've compiled a couple of reasons why iframe integration is less favourable on your website here:
Reasons to better not use iframe integration on your website