Here's a list of the most important updates, features and bug fixes we implemented in the past month!
Booking Widget - custom css changes
Recently we made some changes to booking widget, in order to improve it's functionalities, which might have had impacted customisations that you applied to the button on your page.
Please find here a more detailed article that explains what changes you should put in place to keep your custom css for the book now buttons. Go to article
Partner Network improvements
Now if you ask a supplier to share activities with you, the supplier first has to accept your request in the partner network area, before you're able to share activities.
The confirmed by checkmark will only appear, if the supplier confirmed the connection. Same when you apply to a marketplace, then the marketplace has to confirm it first.
mPOS Improvements
Hide filter by default: In the availability and booking list, we hide the filter now by default to show more availabilities & bookings in one screen.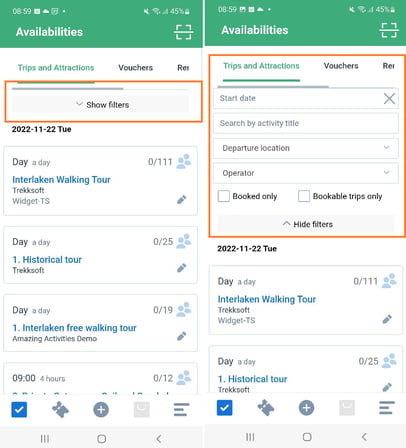 Also we improved the availability section by reducing white space, so we can see more availabilities on the screen than before. A result of this: you can access the dropdown/ additional actions via the pen, icon, the title will be cut off when it's too long (to avoid a break)
TrekkConnect is now: ExperienceBank
TrekkConnect started originally as a channel manager within the TrekkSoft backoffice. With the decision to keep it as a standalone product, internally we kept referring to it as TrekkConnect, externally as ExperienceBank. To align this better for future communication, we will from now on refer to it always as ExperienceBank. Therefore we removed the word TrekkConnect from the backoffice and also your login into ExperienceBank (former TrekkConnect) will now show the ExperienceBank brand. Aside from that, all functionalities within TrekkSoft and ExperienceBank will remain the same.
Other updates
POS Desk: To simplify the filter functionality when working with several partners, we moved the main merchant to the top so now everytime they log in and want to see only their activities, they can easily select the operator at the top.
POS Desk: If you cancel on POS Desk, we show an additional message to refresh the page, though this is normally done automatically. As we have the same on mPOS, we aligned the processes on both interfaces.
Split Payment: Refund issues with split payment are fixed now. Before, when you changed the split payment rate, it was considering the new rate, not the old (used at booking time). This is now working fine.
Book now button preview in backoffice now working again