You can customise most of your TrekkSoft websites such as colours, fonts and styles. You should also upload your logo to replace TrekkSoft's logo that will appear as the "default" logo in the top left corner.
Start by heading to the top navigation bar and clicking on Design and Pages. Then, select Customise Website. Here, you'll find Page settings, Colors, Logo & Images and Fonts.

PAGE SETTINGS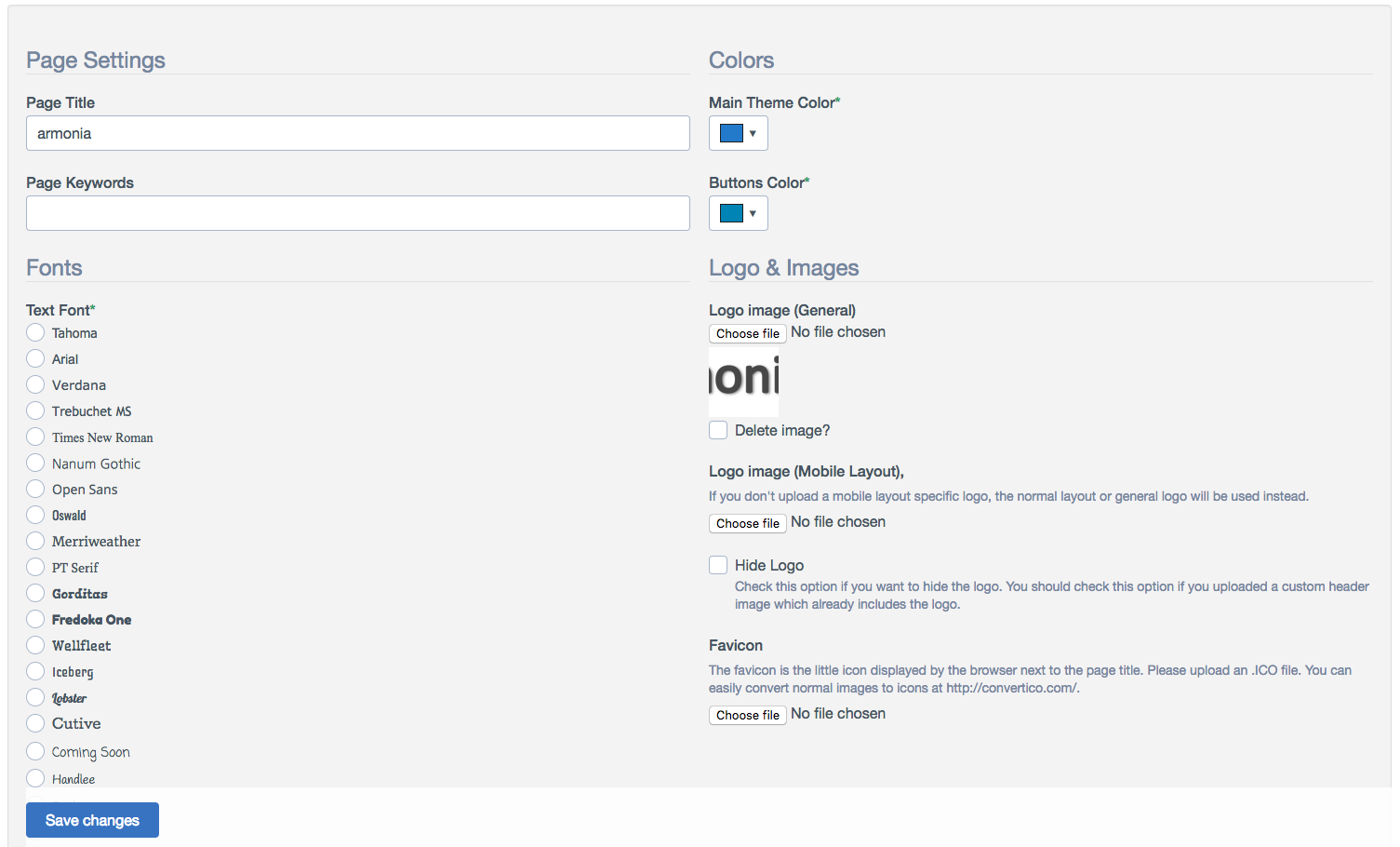 Here, you'll be able to edit settings relevant to your web pages and how they are perceived in tabs and on search engines. The page settings are allocated to all pages of your website and will be the standard information to your individual pages unless you write unique titles, keywords and description for individual pages (when you create your website pages with our builder).
Page Title [required] - The company name to appear in the top navigation
Page Keywords - Enter keywords that relate to your business and what you do.
Colours
Click on the colour boxes and a colour picker will appear. Select a colour you like then double click or press "Enter". Alternatively, you can also enter your HEX colour code and hit "Enter" on your keyboard. When you are happy with your colour selection, scroll down and click Save.
Depending on which theme you choose to apply to your website, there will be different elements on your website that you can customise.

LOGO & IMAGES
Layout Logo Overflow - Check this option if you want the logo to be shown in a bigger format on your website's top menu.
Hide logo - Check this option to hide the logo. You should do this if you've uploaded a custom header image which already includes the logo.
Logo Image (General) - This is the logo that appears whenever a placeholder is used, for example on your PDF tickets or on the top left corner of your website. If a logo is not used, your company's name will be used instead.
Logo Image (Layout) - Here you can upload an alternative logo that will be used instead of the general one. If you didn't upload a layout specific logo, the general logo will be used instead. The dimensions for the layout logo is 190x150 pixels.
Logo Image (Mobile Layout) - This is the logo that will appear on your mobile pages. If nothing is uploaded here, the normal layout or general logo will be used instead.
Header Image - If you're using TrekkSoft's website builder, this image will be used in your headers.
Footer image - If you're using TrekkSoft's website builder, this image will be used in your footers.
Favicon - A favicon is the little icon displayed in the browser next to the page title. Please upload an.ICO file. You can easily convert normal images to icons at http://convertico.com/.

FONTS

To change your fonts, simply select the font you would like to use. You can select both your regular text font and the font that will be shown in the header for each page.