Get more sales by connecting to Expedia Local Expert

What Would You Like To Do?
In this guide, we will cover the following topics:
________________________________________________________________________
Apply to Expedia
Before applying to Expedia from the TrekkSoft dashboard, please make sure you have an account set up with Expedia.
If you have not registered with Expedia, please go to Join Expedia Local Expert and complete the application process. Please make sure to mark TrekkSoft as your booking software used as that helps with getting accepted. Afterward, please wait for Expedia`s response regarding your application.
If you already have an account set up on Expedia, please go to TrekkSoft Marketplaces to enable connectivity with Expedia.
________________________________________________________________________
Apply on TrekkSoft
In order to apply for the Expedia connection via TrekkSoft, go to Channel Manager > Marketplaces and locate Expedia on the list: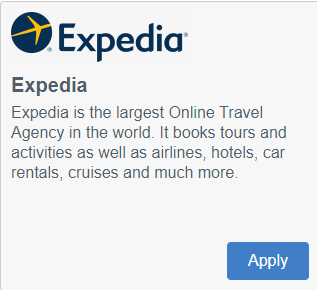 When hitting on Apply you will see this pop up: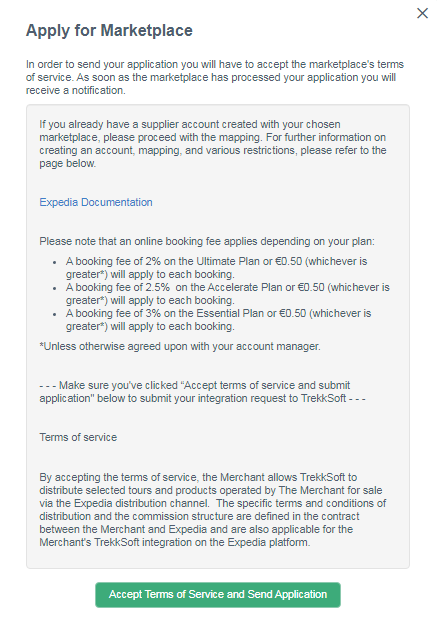 Accept terms of Service, and you'll see that your Expedia module has changed: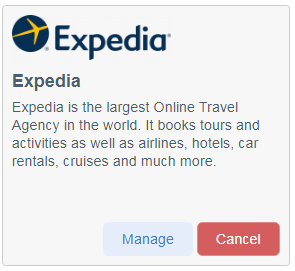 Note: If you click on Cancel the connection will be interrupted and none of your activities will be showing on their end.
________________________________________________________________________
Contact Expedia for CSV
You need to contact your Expedia Destination Manager in order to enable the connection to the Expedia API and request a CSV export of your products to upload to ExperienceBank. They will be able to guide you through the process. If you are not sure who your Expedia Destination Manager is please contact Expedia Local Expert team via the lxhelp@expedia.com email address.
If you would like to have more information about the process on the Expedia site or you have any questions, please visit the Expedia Local Expert Support FAQs page here.
This being done, you'll already be able to start mapping your activities on your ExperienceBank account.
________________________________________________________________________
Mapping on ExperienceBank
The mapping itself is very simple, you just need to follow the steps in our ExperienceBank article (Mapping tours and activities on ExperienceBank, Step 3).
Please note that the mapping should be finished within 48 hours after receiving the file from Expedia, otherwise it might cause delays on their side.
Contact Expedia with a link to the mapping
Once you are done with the mapping and would like to notify Expedia of this, please include a link in your email for Expedia from where they can download the mapping. You can find this in the top right corner:

When you click on Show and copy link to mapped IDs the link will be added to your clipboard, so you can simply paste it into your email.
________________________________________________________________________
Making changes
When you add something new to your TrekkSoft inventory:
Adding a new schedule

Adding a new price category

Adding a new activity
If you map these to a product that was already mapped before for Expedia, it is not necessary to notify the Expedia contact person.
If you map these to a product that was disabled or postponed, please notify your Expedia contact person.
If you create the same new items on Expedia`s side, please follow the following steps:
request an updated CSV file from your Expedia contact person
upload on your ExperienceBank account for the Expedia channel
notify your Expedia contact person that they can update the mapping on their side
Before changing anything on TrekkSoft Schedules (

special tagline, departure times, duration, start or ending date

) please notify Expedia of the change so they can do it on their side as well or update it yourself. If you do change something without advising them, the mapping will be broken. All the details of your schedule need to be the same in your TrekkSoft and Expedia accounts.

Each time you add a new schedule please

update the mapping on ExperienceBank so the changes will be reflected on Expedia. Also, make sure to create the same availability on your Expedia account.

Deleting a price category

for a mapped schedule will cause an error. If you disable activity, you should notify Expedia as well.

You don't need to worry about

Capacities

, these are automatically updated.
________________________________________________________________________
Expedia Basket Example: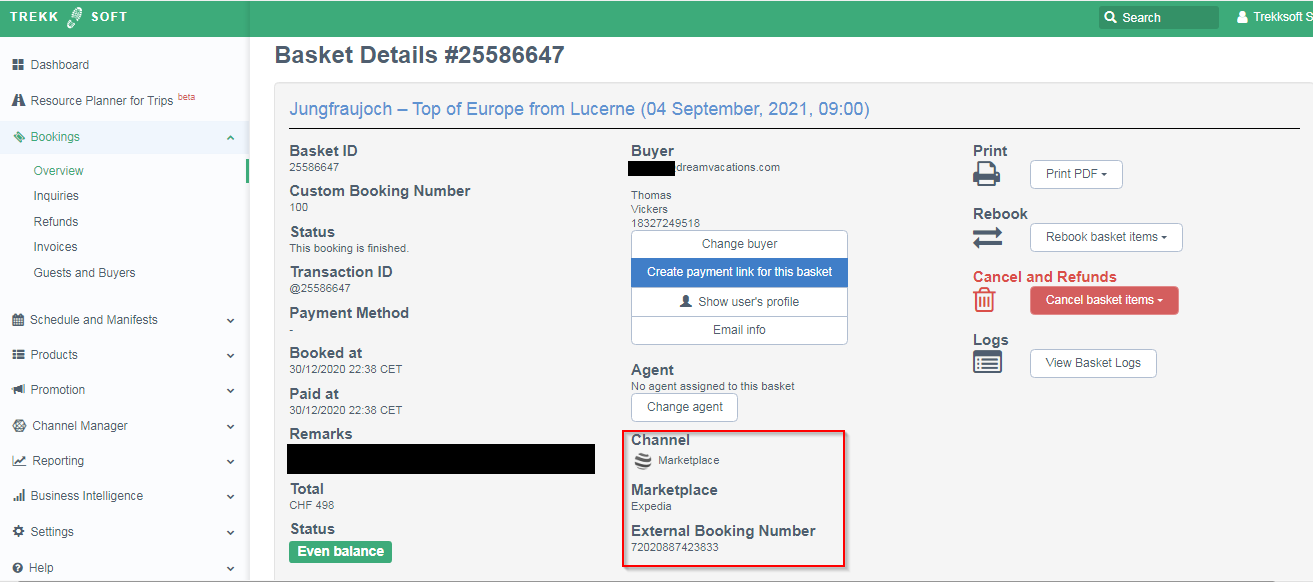 ________________________________________________________________________
Can I map this?
Activities w/ multiple schedules:

yes

Seasonal schedules:

yes

Variable Pricing:

yes

Voucher Schedules:

no

Cut-off time:

yes, has to be less or the same on Expedia

Multiday schedules:

yes

Yield Management:

no

Rental/Accommodation:

no/no

Packages:

no

Booked after the start time:

no

Exclusive/private price cat:

no

Multiple TrekkSoft accounts with 1 Expedia account: no
Multiple Expedia accounts with 1 TrekkSoft account: yes
Note: Remember to reach out to your contact person at Expedia to notify them of the following:
1. Completing the mapping for the first time
2. When you add new products to your TrekkSoft inventory (including a new schedule, price category, and activity) that you want to add to Expedia. If the activity or option was disabled or postponed, please notify your Expedia contact person.
Last Updated [18/01/2021]