Cancellation Insurance can be provided to reduce the risk for customers when booking an activity (subject to the terms of the insurance policy documentation)
IMPORTANT: It's mandatory for the First and Last Name of the guest to be enabled under custom fields so the guest can enter their details whilst following the booking process.
If the First and Last Name fields are not enabled, the cancellation insurance option will not be visible during the process.
You can read more about custom fields on our help page here
What is the Cancellation Insurance?
The Cancellation Insurance provided by TrekkSoft through a 3rd party called Helvetia Schweizerische Versicherungsgesellschaft AG. It is designed to reduce the risk for your customers when booking an activity. If a customer has to cancel an activity at the last minute under a variety of circumstances, this insurance will reduce the financial risk which your customers are exposed to while traveling.
You can decide to activate the Cancellation Insurance at any time. Please speak to your account manager to do so.
Advantages
By choosing to enable this insurance at checkout, your customers will be financially protected in the event they're unable to attend your activity. Activity cancellations and interruptions are quite common while travelling so having extra protection can improve their sense of security.
By enabling this insurance, it also gives the merchant, you, financial protection. This can reduce the number of chargeback claims and refund requests received as your customers will not be claiming refunds from you but from the insurance provider.
Disadvantages
When opting for insurance, there will be an additional €5 added to bookings under €100. For bookings over €100, cancellation insurance will be 6% of the basket value. This can deter customers if they're already spending a lot of money on tours and activities. However, the cancellation insurance is optional and will be clearly highlighted at checkout.
At the end of the day, your customers will have the choice if they want to pay a little more for added protection and security, enhancing the overall experience of your services.
Applying for Insurance
For TrekkSoft merchants: Please speak to your Account Manager and they will activate this for you.
For your customers: At checkout, just after selecting the date and time for an activity, there will be a section at the bottom of the page called Cancellation Insurance. Your customer can choose to apply for the insurance here. If they opt-in for the insurance, your customer will have to fill in details of the guests and the insurance fee will be added to the total price.
Once checkout is complete, customers who opt-in for the insurance will receive an email confirmation.
Customers will also receive the Insurance Policy PDF from the insurer and will need to keep this document as proof of insurance.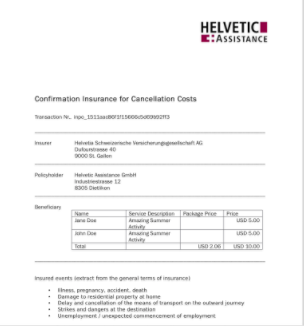 Last Updated [02/03/2020]