Your Account and Subscription page allows you to update your card details, check your subscription, enable/disable your account plus much more!
Your account and subscription page is split into three sections. In each of these sections are multiple options relating to your Account, Subscription, Invoices, Billing Info, etc. The three sections are:
You can find your account and Subscription information by going to your Admin Desk. In the main navigation select Settings> TrekkSoft Subscription (shown below):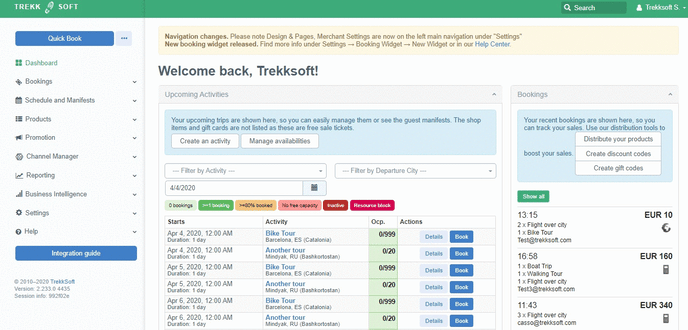 ________________________________________________________________________
Account
Store
Here you can enable or disable your store anytime. But....what does this mean?
Enabled - If your store is enabled, your Trekksoft site, Booking Desk and POS Desk is active. This means bookings can be made through all channels. Only activate your Trekksoft site if you are ready to Go Live!
Disabled - If your store is disabled, you will not be able to sell any of your activities or shop items.
Once everything is set up for your account and you are ready to receive bookings, you can make your website/booking widget accessible without logging in.
Subscription
Here you can see the most relevant details of your subscription or click on Change Subscription, which will redirect you to the Subscription tab.

The Subscription section gives you very useful information about your current subscription:
Merchant Since - This tells you the date you joined Trekksoft!
Current Plan - A description of your current agreed plan
Plan Subscribed Since - How long you have been on the current plan
Next Billing Date - When you will next be billed for your plan i.e. when the current plan expires
Billing
Here you can see the details of your current plan or switch to another plan.
Payment Type - This describes the type of payment you are using for billing.
Billing Address - This is your current billing address. if you need to change your address for any reason, you can change it by going to Merchant Settings> Merchant Profile.
Credit Card: You will see the details of the credit card added to the system (only the last 4 digits of the credit card number).
TrekkPay fee: If you are using TrekkPay as a payment gateway it is possible to have the fees deducted from your next payout. In this case, your ID in TrekkSoft and in TrekkPay will be displayed here.
Merchant Reference: If your company has multiple TrekkSoft accounts, it is possible to charge all fees to the one dedicated account. In this case, you will see here which account is charged with all fees and the payment method.
Note: Some options may not appear for you as they do not apply.

Invoices
The invoice section shows a list of all past invoices from TrekkSoft, both for the transaction and for the subscription costs organized in chronological order. If you want to see more detailed invoices, you can download a PDF copy by clicking on the

button highlighted below:

Credits
The section is for credits that have been earned on your account. You can use these credits against invoices when paying your invoices.

________________________________________________________________________
Subscription (tab)
On this tab, you can see in detail all fees and commissions of your Subscription Plan. You also have the option to cancel your subscription.

________________________________________________________________________
Billing Info (tab)
On the billing info tab, your credit card and Paypal details are shown. The credit card is used as your Subscription's payment method. You can change your credit card or PayPal account details by editing your new card or Paypal information and clicking the Activate button.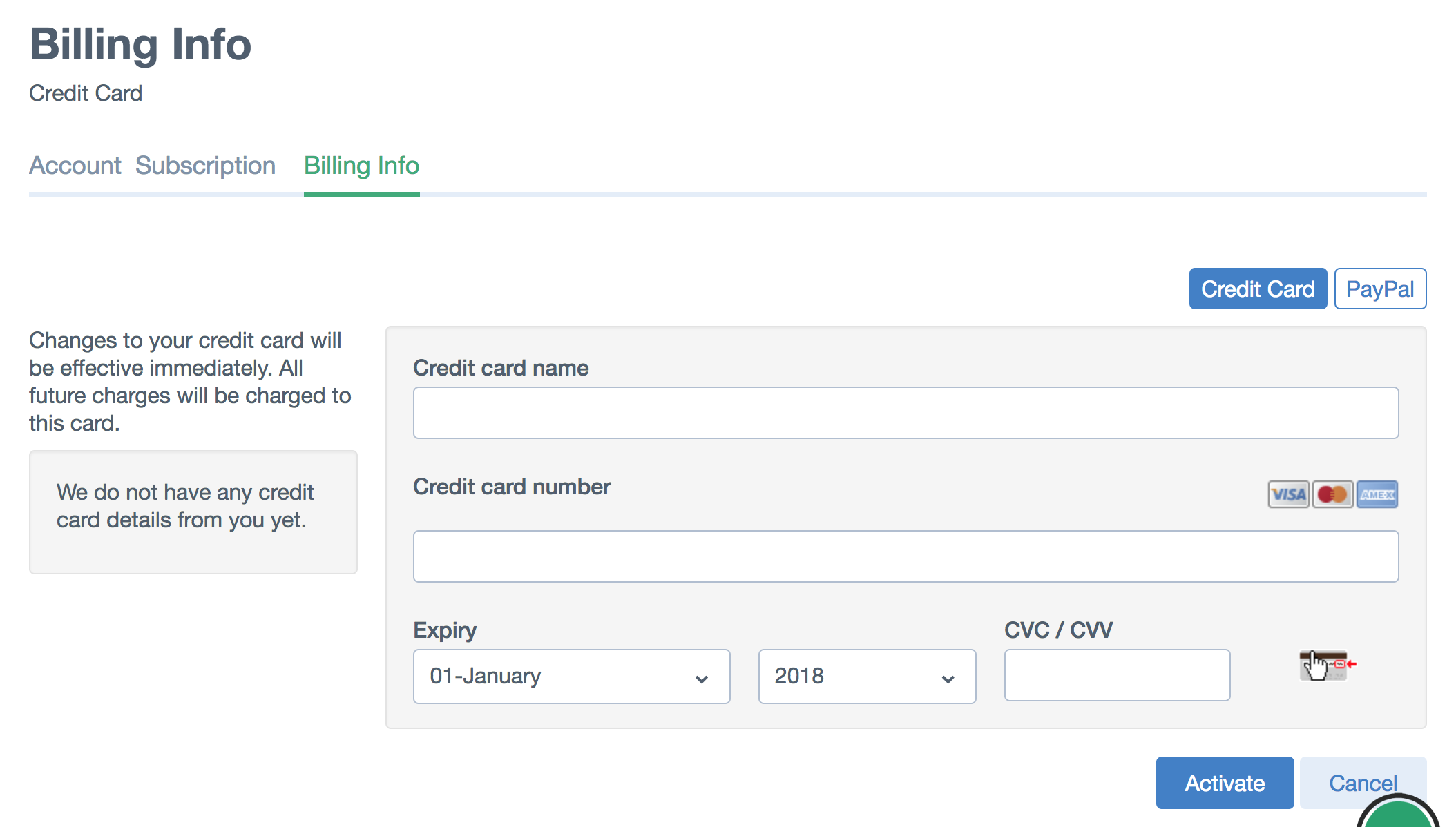 Last Updated [29/02/2020]