Standard marketplaces available that can be managed via ExperienceBank directly.
Standard marketplace connections use ExperienceBank's standard API to sync your activities schedule, a price category to online travel agents (OTAs).
This type of connection is a lot simpler for businesses to enable as your price categories are mapped by the OTA and are synced across all connected OTA channels.
These are the marketplaces that fall in this category:
________________________________________________________________________
Enabling marketplace connections
Before you can enable a connection with the marketplace, make sure you already have a supplier account with that marketplace.
1. To connect and share your products with the selected marketplace, click on Share Activities.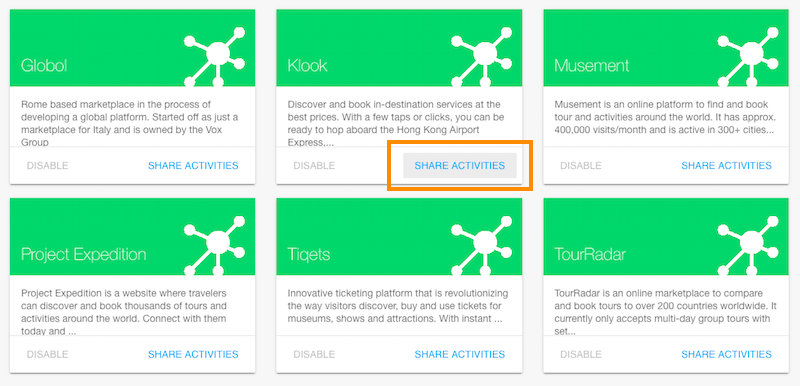 2. Specify the activities you would like to share.
You will find that all your activities are automatically shared with the OTA.
To start, choose to unshare activities you do not wish to distribute via this channel. If you make any changes in the future, please notify your marketplace account manager.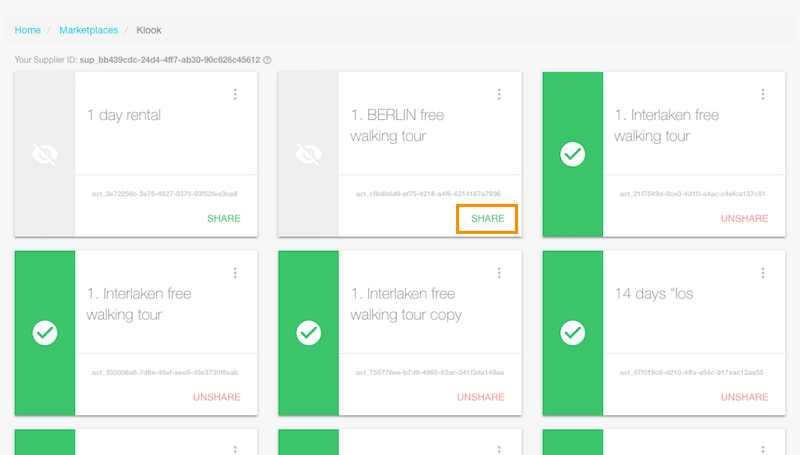 You can always return to this page to check which activities you're sharing with the marketplace.
________________________________________________________________________
Your supplier ID
When you 'Enable' a marketplace on ExperienceBank, the marketplace will receive your supplier ID.
To find your Supplier ID, go to Marketplaces and select the relevant OTA. You'll find your ID in the top left corner of the page.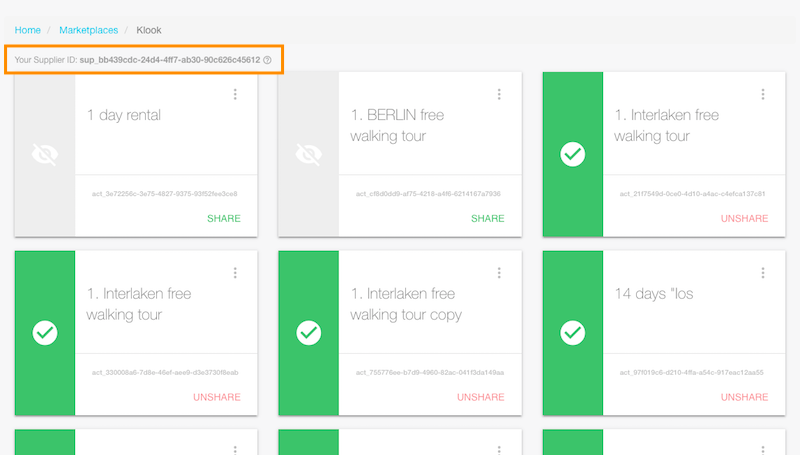 ________________________________________________________________________
What information do you get from these marketplaces?
Guest information
The type of guest information you get depends on the marketplace.
Customer name - Required
Contact details - Email or phone number depending on the marketplace
If there's more than one guest booked for the trip, the name of the buying customer will appear with the number of people booked for the trip.
Booking number
Every basket that comes from a marketplace will include information about which channel the booking came from, as well as the external booking number for that basket.
Sales reports
We do not receive the payment method used by the customer, or the total price paid by your customer.
To calculate sales reports, we use the prices listed on TrekkSoft. To find out how much your customers were actually charged, we would advise you to check your marketplace supplier account.
Last Updated [29/09/2020]