Here's a list of the most important updates, features and bug fixes we implemented in the past month!
Updated Activity categories
We've updated our internal activity categories to align them better to OTAs. This means, we renamed or split existing categories and also added new ones.
Additionally the category field in the activity setup is now mandatory, as this information is crucial when working with multiple channels and simplifies the mapping process on OTAs.
What you have to do: Please have a look at the new categories (explained below) and review your activities accordingly, to find the category that best represents your activity.
New categories
Food/Wine Tours (former: Food, Wine & Nightlife)
Nightlife Experiences (former: Food, Wine & Nightlife)
Biking Tours (former: Walking & Biking Tours)
Walking/Hiking Tours (former: Walking & Biking Tours)
Sightseeing Tours (renamed)
Theme Parks
Watersports/Tours (formerly 2 categories: Water Sports and Cruises, Sailing & Water Tours)
Airborne Experiences (former: Air, Helicopter & Balloon Tours)
Attractions/Museums/Galleries/Aquariums (former: Cultural & Theme Tours)
Events (former: Shows, Concerts & Sports)
Special Interest (former: Weddings & Honeymoon)
Adventure / Adrenaline Tours (former: Outdoor Activities)
Equipment/Gear/Rental (new)
Safari & Wildlife Tours (no change)
Family Experiences (new)
Transportation (new)
Vehicle Tours (new)
Natural Attractions (new)
Miscellaneous (former: Others)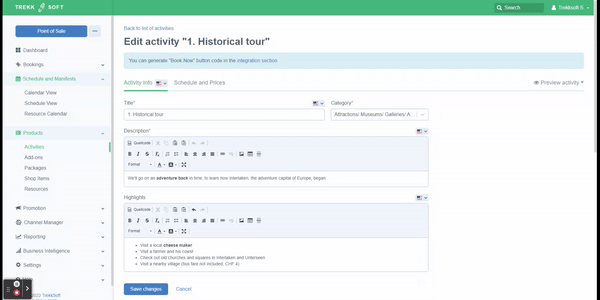 Ticket scan functionality more prominent on mPOS
We received the feedback, that the ticket scan functionality is too hidden in the upper menu. That's why we moved it as a sticky element to the top right, so it will be accessible directly when you need to scan a ticket.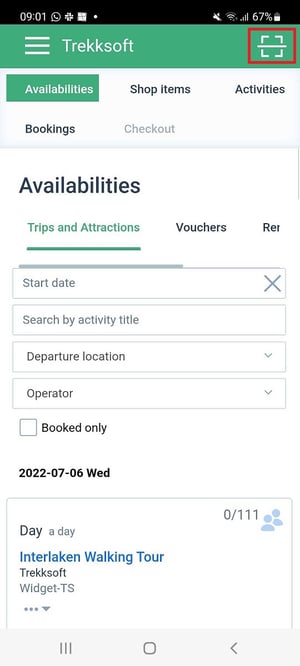 New agent permission: Modify not only own bookings"
There is a new agent permission "Modify not only own bookings", that allows your agents also to modify (edit, cancel, rebook, add guests, etc.) other agents' bookings. This is a default setting for super agents.
POS Desk - Filter: Bookable trips only
We added a new filter to the POS Desk: Bookable trips only. It will show all trips with availability, so it's easier for your agents to quickly find the right date and time.
Keep in mind: When you agents/ partners have overbooking permission enabled, then the trips that are fully booked will still show in the availabilty list, as they are allowed to overbook them.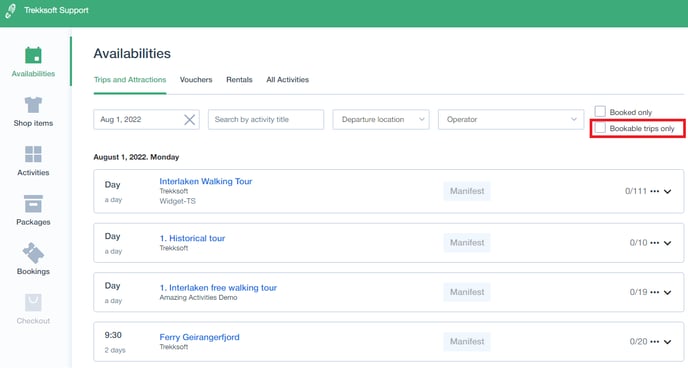 POS Desk - Guest Manifest: Show guest add-ons in guest manifest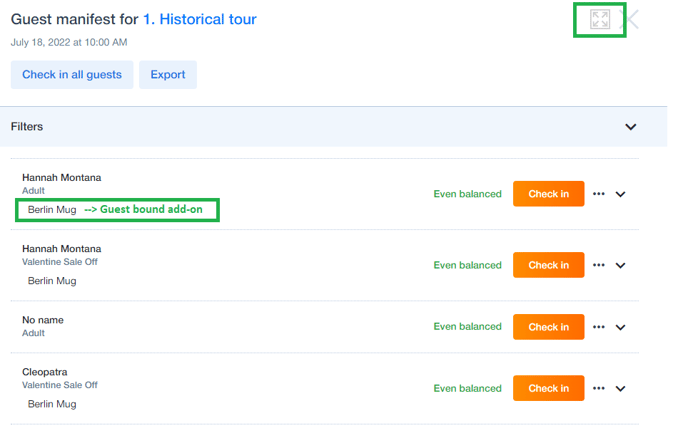 POS Desk - Guest Manifest: Filter for payment status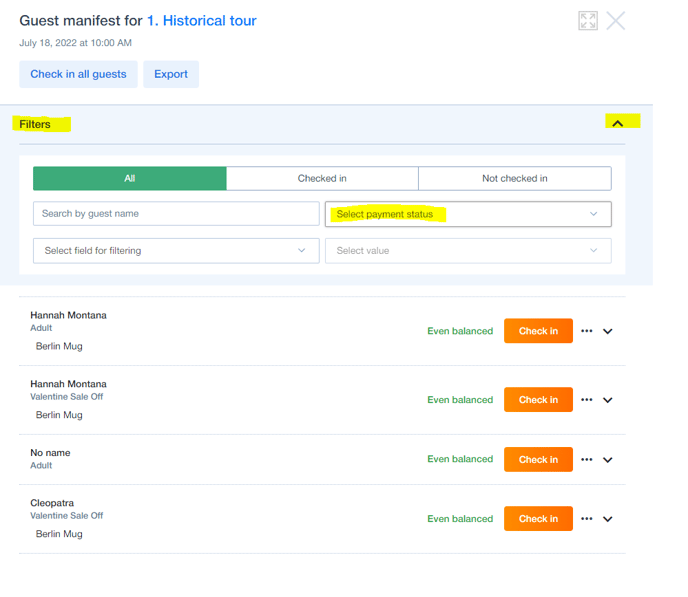 Other updates:
POS Desk: The guest manifest opens in a sidebar (by default). Now you also have a toggle at the top right to enlarge the manifest to its full view.
Fixes:

mPOS: Bug with Hosted Payment Page site
Link type integration issue fixed
Widget - Sentences with apostrophes not displayed correctly
POS: Filling out guests fields from different price categories caused issues
POS: Booked price categories for packages showed wrong in checkout process
POS: Agent permissions "modify/cancel" and "adjust pricing" reviewed
POS: Agent permission "overbooking" shouldn't overwrite partner permission