Here's a list of the most important updates, features and bug fixes we implemented in the past month!
Rebooking process with multi discount:
By default when you rebook a booking with multi discount, the multi discount won't be saved. To be able to better handle multi discounts for rebookings, we are now keeping the manually added multi discount. So as soon as you manually update the multi discount in the basket details, this will be kept, no matter if you do rebookings or not.
Down payment on POS Desk/ Booking widget
If a booking has no down payment, the "down payment" (on POS Desk) and the "amount to pay" field (on the Booking widget) in checkout won't be shown anymore. This is to provide a better user experience.
Redemption of discount code & voucher on POS Desk
The error message, when a discount or voucher code is invalid on POS Desk, has been reviewed and shows now an updated error message.
Conversion improvement: Finish booking
Based on conversion data shared with us by Payyo, we renamed the button before going to Payyo's HPP to "Finish booking" to make it clear for the merchant that there will be
Based on the conversion discussion we had at the group retreat, we renamed the second continue button (before you go to HPP) to "continue and pay", as this makes it clear what will happen next, rather than just "continue" and lead to a better conversion (based on payyo conversion data).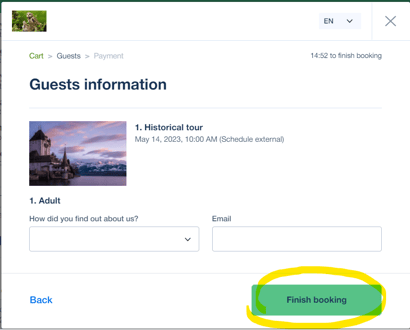 Other updates or fixes:
Fix: Payment links are now available by default for all users on Admin Desk.
Fix: If a refund for a whole basket (with several guests) is initiated, it will now be processed as one action, rather than having each refund on a guest level. If you refund single guests, the process remains the same and will show one single entry for this specific guest refund (on TrekkSoft and Payyo side).
Fix: Website Builder is now correctly shown the name of the used discount code again.
Fix: Drag and drop for images in the activity gallery on admin desk is working correctly again.
Fix: If you add guest addons additionally to a basket on admin desk, this is now correctly synced with the POS Desk booking.
mPOS: We improved the speed when scanning tickets one after the other.
mPOS: Using "add payment" with credit card payment form/ credit card scanner is now working correctly again.