An overview of TrekkSoft's latest feature created to help operators grow by working with 3rd party resellers.
For tour and activity operators, it is a constant challenge to manage and update multiple online travel agent (OTA) contracts. On the other hand, many OTAs don't have enough commercial people to discuss and negotiate resale terms with operators. This means that operators like you end up missing out on many revenue generating opportunities.
At TrekkSoft, we are constantly looking for ways to help our customers simplify their operations and grow their businesses. Our latest innovation is to introduce Central Contracts (also known as wholesale contracts), allowing your company to connect to more distribution partners, resellers and OTAs.
How does it work?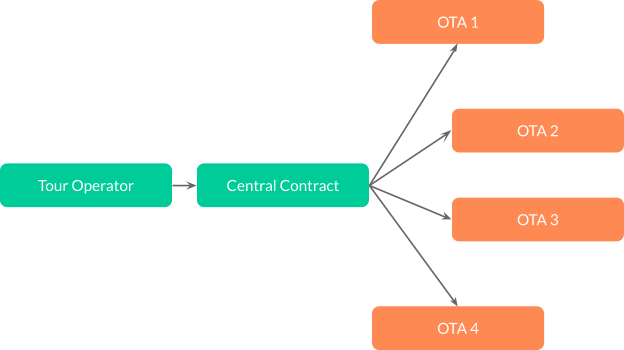 You choose which OTAs you would like to work with from our existing pool of OTAs under the Central Contracting Programme. TrekkSoft will be responsible for getting more OTAs to join the programme.
As a supplier, you obtain a standard contract with TrekkSoft where we charge a 25% commission on each booking, which is paid forward to the OTAs. There will be no additional channel manager fees.
When a booking is made, OTAs will take payment from the customer as normal. They will pay TrekkSoft by the 14th of the month and we will pay you by the 21st of the month, for all bookings made in the previous month.
You will receive a monthly transaction report showing all bookings that were made on each channel to ensure complete transparency.
Six months after the first booking is made, the OTA maintains the right to put a Direct Contract in place with any supplier they choose.
Points to note:
Once a booking is made on the Central Contract, no changes or refunds are allowed.
This agreement does not replace or impact any existing agreements that you have in place with TrekkSoft.
You can operate both Direct Agreements and Central Agreements via the Trekksoft API.
You are under no obligation to work on Central Contracts. It is an optional benefit for which there is no additional cost.
You can still choose which OTAs you wish to work with on a Central or Direct Contract basis.