An overview of TrekkSoft's latest feature created to help operators grow by working with 3rd party resellers.
Overview of Central Contracts
For tour and activity operators, it is a constant challenge to manage and update multiple online travel agent (OTA) contracts. On the other hand, many OTAs don't have enough commercial people to discuss and negotiate resale terms with operators. This means that operators like you end up missing out on many revenue generating opportunities.
At TrekkSoft, we are constantly looking for ways to help our customers simplify their operations and grow their businesses. Our latest innovation is to introduce Central Contracts (also known as wholesale contracts), allowing your company to connect to more distribution partners, resellers and OTAs.
How does it work?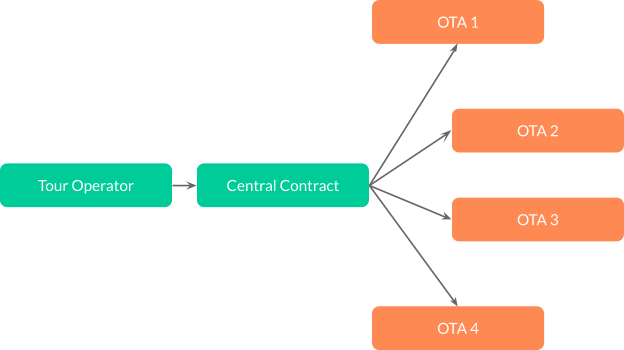 You choose which OTAs you would like to work with from our existing pool of OTAs under the Central Contracting Programme. TrekkSoft will be responsible for getting more OTAs to join the programme.
As a supplier, you obtain a standard contract with TrekkSoft where we charge a 25% commission on each booking, which is paid forward to the OTAs. There will be no additional channel manager fees.
When a booking is made, OTAs will take payment from the customer as normal. They will pay TrekkSoft by the 14th of the month and we will pay you by the 21st of the month, for all bookings made in the previous month.
You will receive a monthly transaction report showing all bookings that were made on each channel to ensure complete transparency.
Six months after the first booking is made, the OTA maintains the right to put a Direct Contract in place with any supplier they choose.
Points to note:
Once a booking is made on the Central Contract, no changes or refunds are allowed.
This agreement does not replace or impact any existing agreements that you have in place with TrekkSoft.
You can operate both Direct Agreements and Central Agreements via the Trekksoft API.
You are under no obligation to work on Central Contracts. It is an optional benefit for which there is no additional cost.
You can still choose which OTAs you wish to work with on a Central or Direct Contract basis.
Why use Central Contracts?
Except for the very biggest of companies who have dedicated contracting teams, most suppliers end up wasting weeks at a time trying to identify whom to talk to in multiple OTAs, then negotiating over rates, availability, payments, terms & conditions etc.
Our new solution allows you to avoid all of that work.
We have APIs in place to deliver live bookings, we have terms pre-agreed with distributors and we know whom to talk to, to get things done.
Tour and activity companies now have no reason to miss out on developing a diversified distribution strategy.
Initially, the Central Contracts will be introduced with a limited number of OTAs before introducing it to a wider array of marketplaces.
What are the main advantages of Central Contracts?
Grow your distribution options with minimal work. You only sign one contract with TrekkSoft.
Deal with one point of contact for all your distribution channels.
The more diversified your distribution, the less reliant you are on anyone reseller for your business.
Do all distributors operate with Central Contracts?
No. It's primarily for distributors, particularly Asian and Latin American distributors, who don't have contracting teams in specific regions.
How do I get started with Central Contracts?
Go to this form.
Read and agree to the Central Contract Agreement.
Complete the Supplier Profile section in the form. In it, you will highlight practical information such as your location, your Unique Selling Points (USPs), whom your tours or activities appeal to and so on. This is important information which we share with new and existing distributors.
Once completed, please notify your account manager and CC peter@experiencebank.travel.
We will then get in touch with you from there.
OTA agreements and listings
Is there a minimum period for Central Contracts?
There is no minimum period for which you have to use these contracts. If you would like to cancel your Central Contract with us, just give us one months notice in writing and that is it.
Can I switch to a direct agreement with an OTA?
Once a fixed period (determined by each OTA) has elapsed from your first booking from the distributor, they can replace the Central Contract with a direct agreement if they feel the volume of business justifies it.
What if I already have direct agreements in place?
All your existing commercial arrangements with OTAs remain unchanged.
The primary purpose of these contracts is to get new distributors for your product and not to replace any existing arrangements.
Once I sign up to a Central Contract, do I control where my product(s) appears?
Yes. When you complete the agreement, you will select which OTAs with whom you wish to work and those you do not.
Your information will then be presented to the OTA for their approval and you will later be advised of their decisions. .
Once I sign up to a Central Contract, are distributors obliged to take my product?
No. We will present your product with the information you have shared with us.
If the distributor already has similar options in place, they do not have to accept our recommendation.
Setting up and getting paid
Do I have to make any technical changes?
No. You only need to have an existing API connection to ExperienceBank in place.
Learn more about setting up ExperienceBank here
How do I get paid?
The distributors pay us and we will pay you the agreed NET rate by the 21st of the month.
You will also receive a full transaction report showing all the bookings generated from connected third-party distributors.
Is there a setup cost for suppliers?
No, there isn't.
Participating OTAs
1. Adrenaline Hunter
French OTA that specialises in adventure sports and outdoor activities. They have been around for a few years and appear to be strong and well respected in their area.
2. City Sightseeing
This is the hop-on/off bus company looking for suppliers in certain cities where they operate tours.
3. Evendo
A B2B company based in the UK that providers companies with activity solutions.
4. Globol
An Italian company owned by the Vox Group in Rome. Currently, a small marketplace that is growing steadily.
5. Headout
One of the fastest-growing OTAs but are quite selective with the suppliers they work with.
6. Klook
Based in Hong Kong, this OTA has secured over $500m in funding in recent years. Their main source market is in Asia and targets the millennial traveller with a high volume of last-minute bookings.
7. Lulu Trip
This is the consumer brand under a larger Chinese company that also operates the B2B platform for travel agents, World++.
8. RRUU
A new Chinese OTA.
9. Silverscreen
A Scandinavian company that is focussed on tours in locations where big movies or TV programmes have been made i.e. James Bond Tours, Game of Thrones tours etc.
10. Trekhunt
An OTA that focuses on adventure activities based in Hungary.
Please note that ExperienceBank is supported by ExperienceBank, a subsidiary of the TrekkSoft Group.